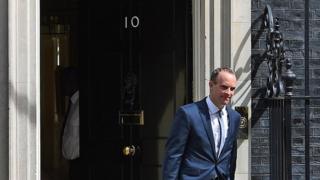 Dominic Raab has been appointed Brexit Secretary by Theresa May after David Davis resigned from the government.
Mr Raab, who is currently housing minister, was a prominent Leave campaigner during the 2016 referendum.
Mr Davis quit late on Sunday night, saying Theresa May had "given away too much too easily".
The 44-year old Mr Raab, a lawyer before becoming an MP in 2010, will now take over day-to-day negotiations with the EU's Michel Barnier.
The MP for Esher and Walton has served in government since after the 2015 election, initially working in the Ministry of Justice before moving to the communities department in January.
The European Commission has declined to comment on the change of personnel, saying it would continue to negotiate with "good will" to try and secure an agreement on the terms of the UK's exit and future relations.
Asked how much of a problem Mr Davis's resignation was for the future of the negotiations, a spokesman replied: "It is not for us, we are here to work".
Mr Davis said he could not remain in his post because he no longer believed in the plan for the UK's future relations with the EU which was backed by the cabinet on Friday.
He said he hoped his resignation would make it easier for the UK to resist EU attempts to extract further concessions – but he insisted he was not seeking to undermine or challenge the prime minister.
In an interview with the BBC's political editor Laura Kuenssberg, Mr Davis said Mr Raab would be "very effective" in the post.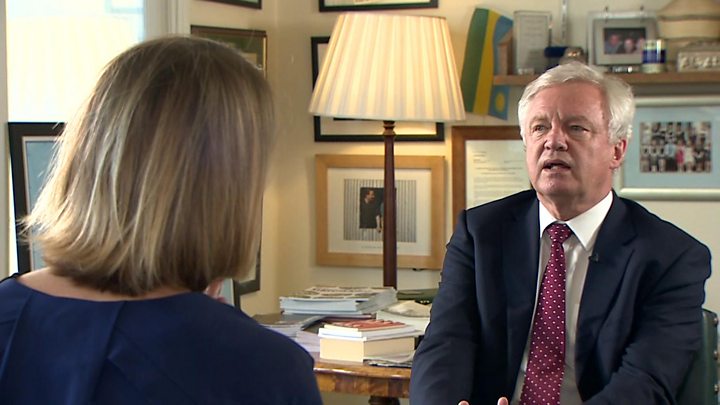 He said he would talk to Mr Raab, who once served as his chief of staff, about the challenges he faces: "You hand over a job and tell him what the pitfalls are. That is what I will do."
Reflecting on his resignation, he said he had lived with compromises in Brexit policy for two years but there came a point where these went "too far".
"I worry about the fine detail and that it will not work out as we hope," he said.
Asked what he would say to colleagues who thought it was time to remove Theresa May, he replied it was "not a good idea" – insisting that she was a "good prime minister".
Speaking to the BBC last week, Mr Raab said the process of negotiating Brexit was "rocky" but what mattered was getting there in the end, which would require "flexibility and pragmatism".
He told the Political Thinking podcast that he was "relaxed" about the UK leaving without a deal and it was "not something I would fear".
Conservative MPs welcomed the appointment of Mr Raab, who has a black belt in karate, one describing him as a "highly capable" figure with a clear attention to detail.
But Labour said a new man fronting the negotiations "changed nothing".
"The deep division at the heart of the Conservative Party has broken out in public and plunged this government into crisis," said shadow Brexit secretary Sir Keir Starmer.
"It is now clearer than ever that Theresa May does not have the authority to negotiate for Britain or deliver a Brexit deal that protects jobs and the economy."
Mrs May will address Parliament later on the plan agreed at Chequers on Friday as well as address Tory MPs as she seeks to keep her Brexit strategy on track.
Ahead of Monday's statement, opposition MPs and peers – as well as Tory MPs – are being offered briefings by Downing Street on the detail of the Chequers statement.
A spokesman for the European Research Group of eurosceptic Tory MPs told the BBC that involving opposition MPs had caused considerable anger and was the government's "stupidest mistake".
And Jacob Rees-Mogg, who chairs the group, told LBC Radio a "large number" of his colleagues would vote against the Chequers plan as it "would not deliver Brexit".
Junior Brexit minister Steve Baker also resigned overnight. He told the BBC's Daily Politics that he had been "blindsided" by the Brexit proposal agreed at Chequers and that he and his team had been preparing a white paper "which did not accord with what has been put to the cabinet at Chequers".
Dominic Raab replaces David Davis as Brexit Secretary}