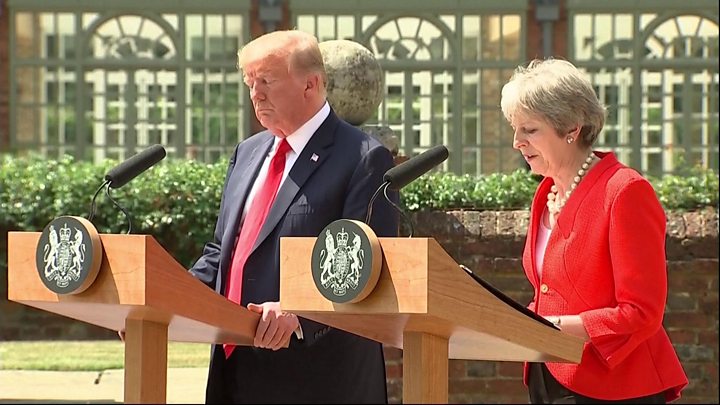 A trade deal between the US and UK "will absolutely be possible", Donald Trump has said, hours after he told the Sun Theresa May's Brexit plan could kill an agreement.
Speaking alongside the PM after talks at her country residence, Chequers, Mr Trump said the US-UK relationship is "the highest level of special".
Mrs May said they had discussed plans for an "ambitious" trade agreement.
Thousands of people are protesting in London against Mr Trump's visit.
A large balloon, portraying the president as a baby, has been floated in Parliament Square as part of the demonstrations. Other protests are taking place across the UK on Friday and Saturday.
At the Chequers news conference, Mr Trump praised Mrs May as an "incredible woman" who was "doing a fantastic job" and said there could be a "great" trade deal between the US and UK.
He said: "I read reports where that won't be possible, but I believe after speaking with the prime minister's people and representatives and trade experts it will absolutely be possible".
Mr Trump's first visit official visit to the UK as president is taking place in between the Nato summit and a meeting in Helsinki with Russian leader Vladimir Putin.
The president and first lady are travelling to Windsor to meet the Queen, before flying to Scotland to spend the weekend at Mr Trump's Turnberry golf resort.
The meeting between Mr Trump and Mrs May took place after the news broke that the Sun had published a wide-ranging interview with the president.
At a news conference following the talks, Mr Trump said: "The relationship between our two nations is indispensable to the cause of liberty, justice, and peace."
He also said:
He had apologised to Mrs May for the Sun's story – but she told him not to worry as "it's only the press… I thought that was very professional"
He said had not given Mrs May advice on how to deal with the EU but "did give her a suggestion… and I think she found it maybe too brutal"
Brexit was an "incredible opportunity" and "whatever" the UK did after it left the EU was "OK with me"
Mr Trump described Brexit as a "very tough situation… between the borders and the entries into the countries and all of the things", saying: "The only thing I ask is that she work it out so that we can have very even trade".
Mrs May said the US was "keen" to do a deal with the UK, adding: "We will do a trade deal with them and with others around the rest of the world".
She maintained the government's Brexit agreement "delivers" on the referendum vote.
Earlier, Mr Trump said he and Mrs May had spoken for an hour-and-a-half at the black-tie dinner at Blenheim Palace on Thursday, which he attended with his wife Melania.
"I think we probably never developed a better relationship than last night," he said.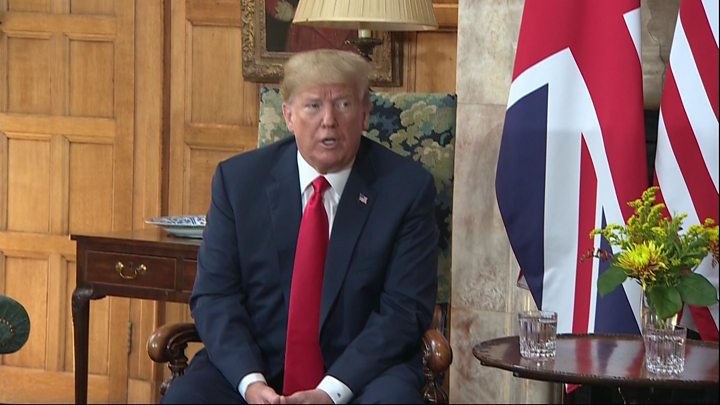 Pots and pans on protest
By Jennifer Scott, BBC News
Thousands of protesters, mainly women, have flooded the streets of central London in the first of the day's demonstrations against against Donald Trump.
The crowd is full of whistles, drums and the all important pots and pans that seem to have become a symbol of this movement.
Whilst the mood is jovial, their motivation is serious. Most of those I've talked to are here because of Mr Trump's immigration policies, especially after recent pictures from the Mexican border.
There are also countless signs on his attitude to women.
Mr Trump arrived at the prime minister's Buckinghamshire residence by helicopter after visiting the Royal Military Academy at Sandhurst, Berkshire, on Friday morning.
Meanwhile, First Lady Melania Trump played bowls with the PM's husband, Philip May, at the Royal Hospital Chelsea in London. She met Chelsea Pensioners and local children.
Downing Street said Mrs May had presented the US president with a gift of an illustrated ancestral chart of his Scottish heritage through his mother, and his wife with a bespoke perfume called the First Lady in a custom bottle.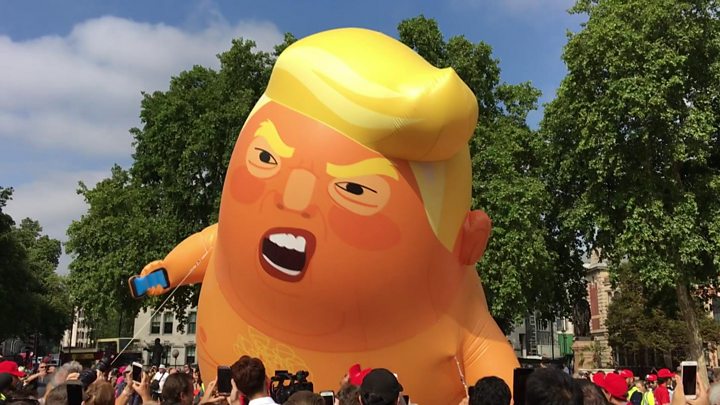 In his Sun interview, Mr Trump – who has been a long-time supporter of Brexit – said Mrs May had not listened to his advice on how to do a Brexit deal, saying: "I would have done it much differently."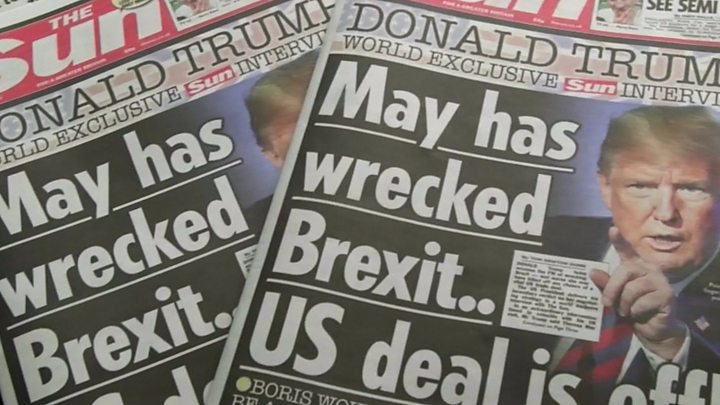 Mr Trump also told the paper that former Foreign Secretary Boris Johnson – who disagrees with the PM on Brexit and resigned this week – would make a "great prime minister", adding: "I think he's got what it takes."
At the Chequers news conference, Mr Trump said he had been responding to the Sun's question about Mr Johnson as a possible prime minister, adding: "He has been very nice to me. He's been saying very good things about me as president".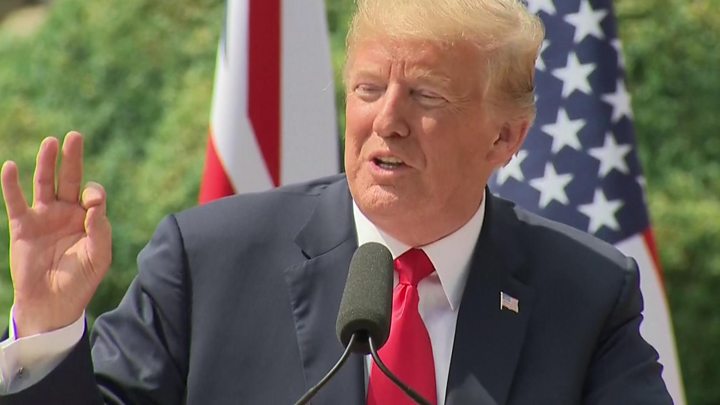 In the Sun, Mr Trump also renewed his criticism of London Mayor Sadiq Khan over last year's terror attacks in London, saying he had done "a terrible job".
Mayor of London Sadiq Khan defended his decision to allow the giant Trump baby inflatable to fly and on the president's criticism of his response to terrorism said it was "interesting" that the mayors of other cities which have experienced attacks were not mentioned.
Meanwhile, shadow foreign secretary Emily Thornberry said the PM "should be standing up to [Mr Trump]" after he "slagged her off", instead of holding his hand.
Donald Trump: US-UK trade deal 'absolutely possible'