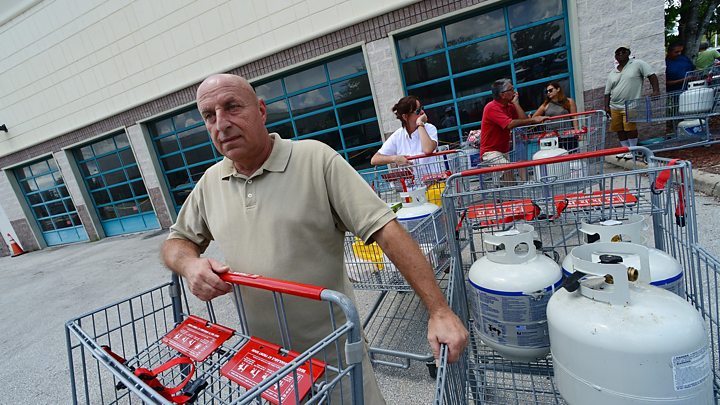 A powerful storm that is threatening Florida and the Bahamas has strengthened to category four, the US National Hurricane Center (NHC) says.
Hurricane Dorian has maximum sustained winds of nearly 130mph (215km/h).
It is expected to grow even stronger as it passes the north-west Bahamas before making landfall in Florida early next week.
Reports from the Bahamas described tourists scrambling to leave before the closure of the international airport.
A state of emergency has been declared in Florida, where residents have been urged to stock enough food, water and medicine to last at least a week.
Forecasters warn Dorian could be the state's worst storm since category five Hurricane Andrew killed 65 people and destroyed 63,000 homes in 1992.
Hurricanes tend to get stronger as they move over warm water like that off the Florida coast.
What's the forecast?
"Dorian is anticipated to remain an extremely dangerous major hurricane while it moves near the north-western Bahamas and approaches the Florida peninsula into early next week," the NHC said.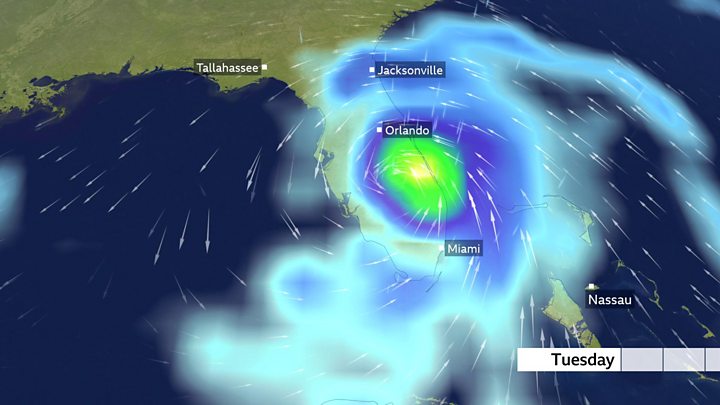 The NHC warned in an earlier briefing that Dorian could cause "incredibly catastrophic damage" and life-threatening storm surges.
Hurricane Dorian is also expected to drop up to 12in (30cm) of rain on the coastal US, with some areas getting as much as 18in.
Tides in the region are already at some of their highest levels of the year, owing to a naturally occurring event.
A new moon, combined with the coming summer equinox, has created what are known in Florida as "king tides".
Forecasters warn this is likely to exacerbate dangerous levels of flooding.
How is Florida preparing?
Florida's Governor Ron DeSantis has declared a state of emergency for the whole state, as has President Donald Trump.
"We urge all Floridians to have seven days' worth of food, medicine and water," Mr DeSantis said.
"This is potentially a multi-day event where it will churn slowly across the state. That obviously creates a whole host of issues."
The governor has activated 2,500 National Guard troops, with another 1,500 on standby.
Shoppers in Florida have been queuing around the block to snap up supplies such as medication and fuel.
People have been asked to bring their pets with them in case of evacuation, and on social media, the names of hotels that accept pets are being shared.
Orlando International Airport announced that it was halting commercial flights from 02:00 (06:00 GMT) on Monday "out of an abundance of caution".
What is President Trump doing?
President Trump warned Dorian "could be an absolute monster". He cancelled a planned trip to Poland because of the storm, sending Vice-President Mike Pence instead.
Mr Trump's critics have argued that he is only taking the hurricane seriously now because it is threatening white people on the US mainland.
A Democratic congressman, Don Beyer of Virginia, told CNN the Republican president was taking notice because "Florida is not an island full of people of colour".
In a tweet this week, Mr Trump seemed to express frustration that Puerto Rico was facing "yet another big storm", as he cited the budgetary costs of disaster relief. Dorian ended up just grazing the US territory.
In Canada, former Prime Minister Kim Campbell stirred controversy by tweeting that she hoped for "a direct hit on Mar-a-Lago", the president's Palm Beach club house.
She later apologised.
What about the Bahamas?
The NHC has issued a hurricane watch for the north-western Bahamas, warning that heavy rain "may cause life-threatening flash floods".
Bahamas Prime Minister Hubert Minnis on Friday announced an evacuation order for parts of Grand Bahama and the Abaco Islands, both in the north of the archipelago.
"For those residents of Grand Bahama and Abaco who wish to leave these islands, flights are being increased. I am appealing to residents who are able to do so financially to seek shelter among family members and other suitable accommodations for their safety," he said in a press conference.
Dr Minnis said he was making the "strongest plea possible" for people expected to be affected to evacuate.
"I urge you, do not be foolish and try to brave out this hurricane. The price you may pay for not evacuating is your life or other serious physical harm."
Are you in the affected region? What preparations are you making for Hurricane Dorian? Email haveyoursay@bbc.co.uk.
Please include a contact number if you are willing to speak to a BBC journalist. You can also contact us in the following ways:
Dorian strengthens to category 4 hurricane