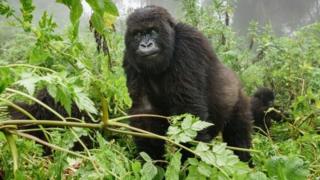 One of Africa's most stunning parks – Virunga in the Democratic Republic of Congo – has suffered a major blow following the killing of a ranger, and the abduction of two British tourists, who were later released.
The attack has forced the park's boss – Belgian prince Emmanuel de Merode – to announce a suspension of tourism.
This will be another setback to efforts to earn much-needed income to protect the World Heritage Site from the lawlessness that has gripped the region since the fall of long-serving ruler Mobutu Sese Seko more than two decades ago.
How dangerous is Virunga?
Boasting Africa's most diverse wildlife, Virunga – which stretches across 7,800 sq km (3,000 sq miles) – is one of the most dangerous parks on the continent.
The extent of the threat is reflected by the fact that between 1,500 and 2,000 armed fighters – according to Mr De Merode – roam Virunga and its surrounding areas.
They belong to numerous different rebel groups, who battle for control of the region's rich resources.
They fish illegally, slaughter its animals, fell its trees – and kill, rape and abduct locals and foreigners alike.
"The trafficking of natural resources last year was estimated to be worth more than $170m (£125m), of which these militia groups are draining about $47m. This is the scale of what the rangers are up against," Mr De Merode told the BBC's Newsday programme.
The lawlessness in the park is linked to DR Congo sliding into chaos as the Mobutu regime lost his grip on power, before he was finally toppled in 1997.
"Virunga suffered terribly. Poaching depleted the park's large mammal populations, infrastructure was destroyed, and many rangers were killed. The Congolese Wildlife Authority slowly lost control of Virunga and Unesco changed the World Heritage Site status to "endangered," the park says on its website.
"Over the 25 years that followed, the park staff endured an almost uninterrupted series of trials that included a refugee crisis from the 1994 Rwandan genocide, which contributed to the severe destruction of park forests, and the proliferation of armed militias throughout the park… By the end of 2008 it seemed as if Virunga was finished," it adds.
Closed at the peak of conflict in the region, the park re-opened to tourists only in 2014 before shutting down again on Friday.
"We will keep tourism suspended until we can assure the security of visitors. That will be a long process, and it will hit the park hard, very hard, financially, but there is no way around it," Mr De Merode told the BBC.
So why do tourists visit Virunga?
Founded in 1925 by Belgium's King Albert I, a visit to Virunga is a once-in-a-lifetime experience, with its forests, savannas, lava plains, swamps, erosion valleys, active volcanoes, and the glaciated peaks of the Rwenzori mountains, its website says.
And as one tourist wrote: "I had climbed eight volcanoes before my trip to DR Congo, but Nyamulagira and Nyiragongo were heads above."
The park also has a wide variety of wildlife, including about a quarter of the world's remaining 880 mountain gorillas, 2,500 hippopotamuses which live on the banks of Lake Edward and three rivers.
Virunga has been heavily marketed in the West, and has the backing of the British royal family.
"Anything to do with Congo is edgy; it's part of its allure," wrote Jessamy Calkin in the UK-based Telegraph newspaper last year.
"That isn't to say it's without royal approval – Virunga enjoys a healthy relationship with the Royal Foundation, the Duke and Duchess of Cambridge and Prince Harry's charitable trust, and Virunga's director, Emmanuel de Merode was a keynote speaker at the Duke of Cambridge's United for Wildlife launch, in 2014," she added.
The price tag for a visit is high: $400 a day for a mountain gorilla trekking permit, while staying at a lodge costs at least $300 a day.
However, this is far cheaper than Rwanda, just across the border from the gorilla section of Virunga, where prices were raised to between $750 and $1,500 last year.
Although the UK Foreign office advised against travel to Virunga even before the latest kidnapping, the lower prices were an attraction for the more intrepid traveller.
Have there been many attacks on rangers?
Aged 25, Rachel Masika Baraka was the first female ranger to be killed at Virunga, as she tried to save British tourists Bethan Davies and Robert Jesty from being kidnapped last week.
"She was one of the park's 26 female rangers and was highly committed, showing true bravery in her work," Mr De Merode said.
Mr De Merode himself survived an ambush near the park in 2014. He was shot four times in the stomach and legs.
He had apparently handed a prosecutor sensitive information about oil exploration at Virunga before he was shot.
Ms Baraka was the eighth Virunga ranger killed this year. In April, five rangers and their driver were shot dead in an ambush by suspected militiamen.
In total, 175 have been killed in the line of duty since 1925.
For the rangers, saving the park from destruction is more important than their lives.
"In the end, we will be judged [harshly] if we just stand by as the park vanishes. Our wish is that the park lives forever," one of them said in a video about the world-famous park.
Mr De Merode said the park's rangers, numbering more than 500, got extensive security training.
"All of our rangers who take care of visitors are trained by European special force instructors," he was quoted as saying on a National Geographic blog last year.
DR Congo: Why tourists go to Virunga National Park