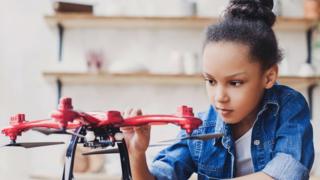 Children could be banned from owning drones weighing more than 250g (0.55lb) under a new proposal from the Department for Transport.
They would only be allowed to fly devices heavier than that if they were owned and registered by an adult.
It is the latest in a series of proposals designed to crack down on snooping fears and near-collisions with manned aircraft.
If approved, it could form part of a draft Drone Bill.
A consultation on the proposals is now underway, with the Bill due to be published later this year.
The UK government has already passed legislation that bans drones from flying at heights above 400ft (122m) and within 1km (0.6 miles) of airport boundaries. Pilots flouting the rules face unlimited fines or up to five years in prison as of 30 July.
The number of aircraft incidents involving drones has risen sharply in the past few years, with a 25% increase reported in 2017. Research funded by the DfT indicated that a drone weighing 400g could smash a helicopter windscreen.
Other measures that are still up for debate include online safety tests and mandatory registration of devices weighing over 250g with the Civil Aviation Authority. The DfT is also exploring technologies that can protect public events, national infrastructure and prisons from unwanted drone disturbances.
In addition, there are proposals to give police the power to confiscate drones and issue on-the-spot fines to irresponsible pilots.
Aviation Minister Baroness Sugg said that "there are challenges we must overcome" to prevent the nuisances posed by drones from outweighing their potential benefits.
"That's why we've already introduced safety measures like a height limit, and rules around airports, and today we are consulting on how we go further, including extra police powers and a minimum age requirement," she added.
Drone Bill may ban children from owning larger aircraft