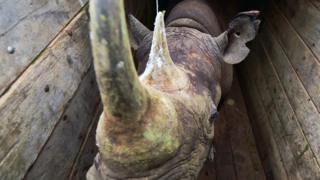 Seven endangered black rhinos have died while being transported to a new wildlife reserve in Kenya, reports say.
Wildlife officials are still trying to establish why the critically endangered animals failed to survive the trip.
The dead animals were among 14 black rhinos being transported to Kenya's biggest national park, Tsavo East, AFP news agency reports.
Estimates suggest there are fewer than 5,500 black rhinos in the world, all of them in Africa and some 750 in Kenya.
The deaths during the relocation process were confirmed by officials speaking anonymously to AFP, although they said the reason why the animals died was not yet clear.
A Kenyan conservationist, Paula Kahumbu, said officials should immediately take responsibility and explain what went wrong.
"Rhinos have died, we have to say it openly when it happens, not a week later or a month later. Something must have gone wrong, and we want to know what it is," Ms Kahumbu told AFP.
The relocation of endangered animals involves sedating them for the journey and reviving them on arrival. The process is known as translocation.
It is a process that the World Wide Fund, which runs the programme with the Kenya Wildlife Service (KWS), described as "extremely challenging and not without risk" in a statement released to Kenya's Daily Nation newspaper.
"Black rhinos are under enormous threat, so efforts to try and better protect them, such as translocation, are crucial for future generations," the statement said.
Nine rhinos were killed in Kenya last year, according to KWS, and in March, the world's last surviving male northern white rhino died after months of poor health.
He had previously joined the dating app Tinder to raise funds for his conservation.
You may also be interested in:
Endangered black rhinos die in Kenya reserve