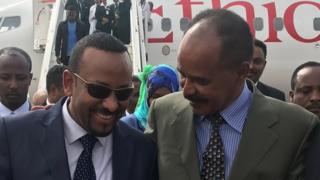 Eritrea and Ethiopia are to re-establish diplomatic and trade ties after long years of hostility.
Ethiopian Prime Minister Abiy Ahmed and Eritrean President Isaia Afwerki made the announcement during a landmark meeting in the latter's capital Asmara.
It is the first time the leaders from the two East African neighbours have met in almost 20 years.
Relations were severed following a border dispute which killed tens of thousands of people in the late 1990s.
A peace deal was signed in December 2000. However, Ethiopia refused to accept the final ruling of a border commission two years later, which awarded disputed territory to Eritrea, including the town of Badme.
The countries have been on a war footing ever since.
Sunday's meeting, which follows a visit to the Ethiopian capital Addis Ababa by an Eritrean delegation, comes after Mr Abiy said his country would accept the commission's ruling.
In speeches broadcast live on state television on Sunday, Prime Minister Abiy and President Isaias said they had agreed to set up embassies in their respective capitals, while landlocked Ethiopia will be allowed to use Eritrean ports on the Red Sea.
The two countries will also resume flights between each other, as well as direct phone connections.
The meeting was greeted with excitement in Eritrea, where thousands of people lined the streets singing and waving both countries' flags.
The goodwill appeared to be shared by the leaders, who were pictured smiling broadly together in images shared by Mr Abiy's chief of staff, Fitsum Arega, on his Twitter account.
Speaking at a dinner held in his honour, Mr Abiy, who has been pursuing a reform agenda ever since taking office in April, said "war and talk of war must end".
"Today, the Eritrean people, particularly the people of Asmara, practically showed us how stronger love is than the missiles of the day," he added.
"Missiles, tanks, Kalashnikov and bren [light machine guns] can capture people but not their hearts. What can capture the human heart is love."
However, the BBC's Emmanuel Igunza says, despite all the optimism, it is not clear when Ethiopian troops will withdraw from disputed territories which sparked the border war – a key demand of Eritrea.
Eritrea and Ethiopia to re-establish diplomatic ties