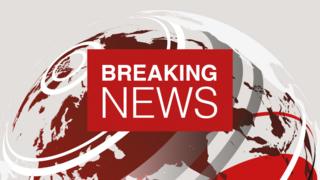 The leaders of Ethiopia and Eritrea have signed a declaration saying that the "state of war that existed between the two countries has come to an end", Eritrea's information minister tweeted.
A peace deal that ended the 1998-1999 border war between the two countries has never been fully implemented.
There has been tension between the neighbours ever since.
The declaration came at a meeting between the two countries' leaders in Eritrea's capital, Asmara.
Eritrea's President Isaias Afewerki welcomed Ethiopia's Prime Minister Abiy Ahmed to Asmara on Sunday.
On Monday, the leaders agreed that "a new era of peace & friendship has been ushered [in]", Eritrea's Information Minister Yemane Gebre Meskel said on Twitter.
This is a breaking news story – more to follow.
Ethiopia and Eritrea declare end of war