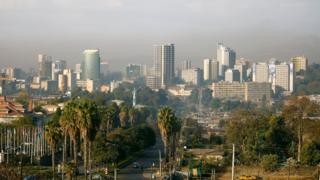 The chief of staff of the Ethiopian army, Gen Seare Mekonnen, has been shot and wounded in the capital, Addis Ababa, officials say.
He was shot trying to prevent a coup attempt against the administration in Ethiopia's northern Amhara region, PM Abiy Ahmed said on state TV.
In that unrest in the north, he added, several officials were killed in Amhara's regional capital, Bahir Dar.
Ethnic violence has hit Amhara and other regions in recent years.
Since his election last year, Mr Ahmed has moved to end political repression by releasing political prisoners, removing bans on political parties and prosecuting officials accused of human rights abuses.
The US state department has warned its staff in Addis Ababa to stay inside, saying it is aware of reports of gunfire in the city on Saturday.
What do we know about the attacks?
Information is scanty, with reports that internet has been down, but Prime Minister Ahmed, dressed in military fatigues, went on TV to make his announcement.
He said the chief of staff had been attacked by "mercenaries" but gave no details about his condition.
Officials of the Amhara state government were killed by their own colleagues during a meeting, he added.
A statement from the prime minister's office added: "The coup attempt in Amhara regional state is against the constitution and is intended to scupper the hard-won peace of the region.
"This illegal attempt should be condemned by all Ethiopians and the federal government has full capacity to overpower this armed group."
Earlier, the government said coup plotters had attempted to oust the head of the Amhara regional government, Ambachew Mekonnen, and efforts were under way to apprehend them.
Residents in Bahir Dar have reported hearing heavy gunfire.
The ruling party in Amhara has accused a former security chief, who was released from jail after Mr Abiy came to power, of being behind the violence.
Ethiopia army chief injured in 'coup attempt'