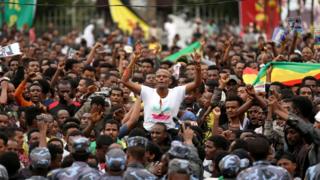 Ethiopian police have fired tear gas to keep back thousands of people who gathered to pay their final respects to the chief engineer of a controversial dam project.
Simegnew Bekele was found shot dead in the capital Addis Ababa on Thursday.
It is not clear if his death was connected to the $4bn (£3bn) Grand Renaissance Dam project.
Mr Simegnew's death prompted an outpouring of grief. Hundreds packed a cathedral, with thousands more outside.
The police say they are still investigating the shooting.
Egyptian authorities have opposed the project over fears the supply of water from the River Nile will be affected.
As news of Mr Simegnew's death spread on Thursday, there was a spontaneous demonstration outside the state broadcaster's offices in Addis Ababa, with people calling for "justice for the engineer".
Thousands then gathered on Sunday for his burial.
Videos shared on social media showed the crowd being dispersed with tear gas.
Other pictures show injured mourners being carried by Ethiopian security forces.
According to pro-opposition Ethiopia Live Updates, the crowd had been calling for the arrest of those who killed Mr Simegnew.
Matina Stevis-Gridneff, Africa correspondent for the Wall Street Journal, told the BBC Mr Simegnew had come to represent Ethiopia's ambitions for the future.
He was also seen as the symbol of the dam, which has been called the most ambitious infrastructure project ever achieved on the continent.
According to the state-affiliated Fana Broadcasting Corporation, his funeral was attended by relatives and friends, as well as President Mulatu Teshome and Deputy Prime Minister Demeke Mekonnen.
Ethiopian dam engineer Simegnew Bekele's funeral draws thousands