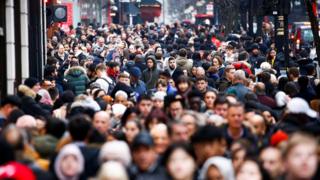 The level of migration from the EU to the UK has been underestimated by the Office for National Statistics from the mid-2000s to 2016.
The ONS said the error affected the number of migrants from eight of the countries which joined the EU in 2004, including Poland.
It said it may have also overstated migration from non-EU countries.
As a result, the status of the immigration figures compiled by the ONS has been downgraded to "experimental".
Immigration experts at the University of Oxford said the latest ONS analysis showed official data has been "systematically underestimating net migration from EU countries".
The ONS said new analysis showed that in 2015-16, EU net migration – the difference between people arriving and leaving – was 16% higher (29,000) than first thought.
This means an increase in the estimate of EU migration from 178,000 to 207,000 for the year ending March 2016.
Net migration from outside the EU was 13% (25,000) lower, because more foreign students left than previously estimated.
Policy debate
The ONS said its research showed no single source of data "can fully reflect the complexity of migration" but looking at all available sources provided "a much clearer picture".
"Whilst we go through this transformation journey, we have sought to re-classify our migration statistics as 'experimental statistics' in line with Office for Statistics regulation guidance," it added.
Madeleine Sumption, director of the Migration Observatory at the University of Oxford, said its monitoring of net migration figures had shown "for a while that something wasn't quite right".
She said: "This matters because for the past nine years the UK policy debate has been fixated on a single data source, which couldn't bear the load that it was forced to carry.
"Whether the question is how to meet the net migration target or what to do about international students, the truth is that the data were simply not robust enough to be picked apart in such detail."
EU migration to UK 'underestimated' by ONS – BBC News