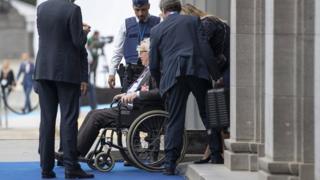 Footage has emerged showing European Commission President Jean-Claude Juncker having to be supported by Nato leaders after repeatedly stumbling.
Mr Juncker was filmed by news agency AP struggling to keep his balance before the alliance's leaders attended a gala dinner in Brussels, Belgium.
This is not the first time he has been filmed unsteady on his feet.
The former prime minister of Luxembourg has previously blamed sciatica, which can cause numbness in the legs.
Pictures taken the same night show Mr Juncker being brought into the dinner in a wheelchair.
According to VRT, Dutch Prime Minister Rutte, one of the leaders seen supporting Mr Juncker, told reporters he was unaware of any "serious health problems" but said he was aware the 63-year-old had "had a back problem for a while".
A European Commission spokeswoman said she would not comment on personal health issues.
EU's Jean-Claude Juncker filmed stumbling at Nato event