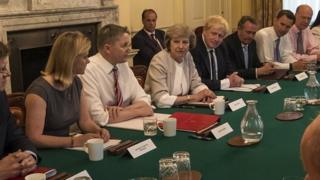 Sir Jeremy Heywood, former cabinet secretary and civil service head, has died of cancer aged 56, Downing Street has announced.
Sir Jeremy was cabinet secretary from 2012 until 2018 and head of the civil service between 2014 and 2018.
PM Theresa May said "he worked tirelessly to serve our country" and is a "huge loss to British public life".
Labour's Yvette Cooper said Sir Jeremy had done "a lot to hold government together at very difficult times".
The cabinet secretary is head of the civil service and is sometimes described as the second most powerful person in the government after the prime minister.
Cabinet secretaries keep a low public profile but they sit next to the PM at cabinet meetings – and it is their job to ensure policies are put into action and offer advice on running the machinery of government.
Sir Jeremy had a long career at the top of government, serving four prime ministers in different roles.
He managed former Labour PM Tony Blair's differences with his chancellor, organised Gordon Brown's Downing Street, helped to hold the Conservative-Lib Dem coalition together, and, finally, supported Mrs May's minority administration.
He first joined the civil service in 1983 and Sir Mark Sedwill, his successor as cabinet secretary and head of the civil service, described him as an "exemplary public servant".
"We will miss him more than we can say," Sir Mark said, adding the country "will be the poorer without his advice, leadership and extraordinary insight".
The prime minister described the news as "extremely sad" and said her thoughts were with Sir Jeremy's family.
Sir Jeremy's wife, Suzanne, said: "He could light up any room or conversation"
"For me, he was my wonderful partner for 22 years. We shared everything and I will miss him more than I can say"
Ex-civil service chief Sir Jeremy Heywood dies}