Exit polls released on Friday predicted clear wins for the Congress in
Rajasthan
and TRS in
Telangana
and a hung assembly in Mizoram, but presented a confused picture in
Madhya Pradesh
and
Chhattisgarh
. That left open till December 11, the day the official results will be announced, the question of what impact this round of assembly elections could have on the 2019 general elections in terms of shaping perception.
Every one of the four polls available suggested the Congress would win a majority in Rajasthan (see graphic) though the exact tally of seats predicted varied from just over the halfway mark in the 200-member assembly to a two-thirds majority.
In Telangana, two of the three polls available suggested a clear win for the ruling TRS, indicating that the party's gamble in calling for early elections may have paid off. A third, the Republic-CVoter poll, however projected a hung house with the TRS and the Congress-led alliance both likely to fall below the halfway mark.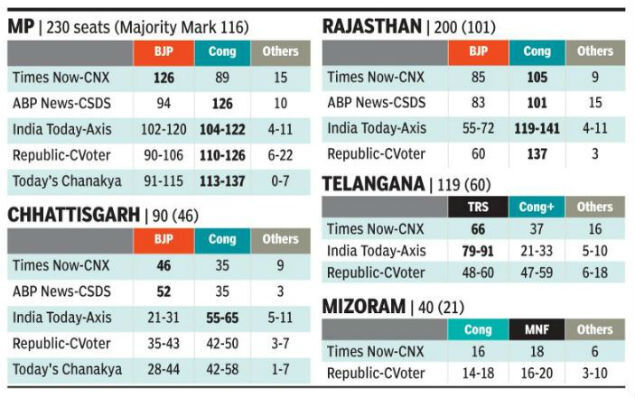 In Madhya Pradesh, the biggest of the states involved in this round, three exit polls gave the Congress a clear lead. One of them, the ABP News-CSDS poll even predicted the party would win 126 seats in the 230-member assembly. In contrast, the Times Now-CNX poll gave the BJP a comfortable victory with 126 seats while a fifth poll suggested it was a photofinish in which the Congress had the slightest of edges.
As in MP, so also in Chhattisgarh, there were exit poll results to suit every taste. Two of the five available gave the BJP a clear win, two others gave the Congress an equally decisive victory and a fifth indicated a close contest in which a hung assembly is a definite possibility.
There were only two polls available for Mizoram, the lone Congress-ruled state in the north-east. Both predicted the Congress would finish second best in a face-off with the MNF. Both also suggested, however that the MNF would fall short of a majority too.
Unlike in the West, where exit polls have in most cases been reasonably accurate, in India they have had very mixed results and there is little evidence to show that their predictive value is greater than pre-election opinion polls. Given that track record and the widely divergent predictions for most states, the suspense about the outcome of this round of elections remains alive till counting day on Tuesday.
Exit polls predict Congress win in Rajasthan, divided on MP and Chhattisgarh – Times of India