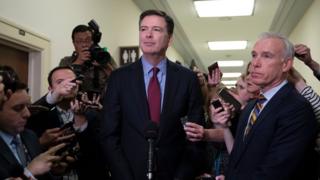 Former FBI Director James Comey has been criticised in a Department of Justice report for the leak of memos on his interactions with President Trump.
An internal watchdog said Mr Comey had failed to "live up" to his duty to safeguard sensitive information.
The watchdog said Mr Comey broke FBI rules by giving a memo to a friend to share its contents with a reporter.
But the inspector general said he was not recommending that Mr Comey be prosecuted for the breach.
What did the report say?
Mr Comey has been a vocal critic of Mr Trump since the president fired him in May 2017.
The report said that, after losing his job, Mr Comey broke the rules by divulging the unclassified parts of a memo he had written on his private conversations with Mr Trump.
He passed the contents to a friend, his personal lawyer Dan Richman, and authorised him to share them with a New York Times reporter.
The report said: "Were current or former FBI employees to follow the former Director's example and disclose sensitive information in service of their own strongly held personal convictions, the FBI would be unable to dispatch its law enforcement duties properly."
The watchdog's report also found that Mr Comey violated departmental policies by keeping copies of the memos in a safe at his home and failing to notify the FBI that he had done so.
The inspector general said Mr Comey shared the memo because he wanted to pressure the Department of Justice to launch an independent investigation into the president.
"Comey had several other lawful options available to him to advocate for the appointment of a Special Counsel, which he told us was his goal in making the disclosure," the report says.
"What was not permitted was the unauthorised disclosure of sensitive investigative information, obtained during the course of FBI employment, in order to achieve a personally desired outcome."
What was the reaction?
Despite the report's findings, Mr Comey claimed vindication.
After he was fired, Mr Comey wrote a book, A Higher Loyalty: Truth, Lies, and Leadership, condemning the president as "unethical, and untethered to truth and institutional values".
He has kept up his criticism of Mr Trump.
A stinging rebuke
The good news for former FBI Director James Comey in the inspector general's report is the conclusion that he did not break the law and will not face criminal prosecution. The bad news is everything else.
Mr Comey violated FBI policies and standards. He, in effect, acted as though the rules didn't apply to him.
President Trump and his supporters will point to this as evidence that Mr Comey was a bad actor with an axe to grind against the president. Those in Hillary Clinton's circle will note, with irony, that the man whose investigation into the former secretary of state's handling of government documents that helped derail her presidential campaign is now on the receiving end of a not-prosecutable-but-not-proper finding.
Mr Comey's claim that the inquiry is a vindication is a real stretch. It is, rather, a stinging rebuke of the nation's former top cop – a man who in his writings and public statements has presented himself as striving for virtue in a toxic political world.
What was in the memos?
Mr Comey wrote seven memos between January 2017 and April 2017 about conversations he had with Mr Trump.
He said that Mr Trump asked the FBI director to pledge loyalty to him during a private dinner. And at a private Oval Office meeting weeks later, Mr Comey says the president asked him to drop an inquiry into former US National Security Adviser Michael Flynn.
Mr Flynn was later fired for misleading the White House about his interactions with Russian officials. He pleaded guilty to lying to the FBI about the encounters.
What's the background?
The firing of Mr Comey prompted nationwide uproar and one day after his memos were leaked to the New York Times, the Department of Justice launched an investigation to establish if there was collusion between the president's 2016 election campaign and Russia.
That special counsel inquiry by another former FBI Director, Robert Mueller, concluded there was not enough evidence to establish a criminal conspiracy, despite a number of interactions between Trump aides and Russian officials.
Mr Mueller's final report also noted that the president repeatedly tried to interfere with his investigation, but did not conclude whether this amounted to criminal obstruction of justice.
FBI's James Comey escapes prosecution over Trump memo leak