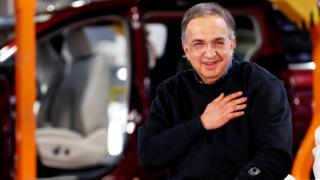 The former chief executive of carmaker Fiat-Chrysler, Sergio Marchionne, has died in hospital in Zurich aged 66.
Mr Marchionne was replaced four days ago when his health worsened following complications from surgery on his right shoulder.
He had led the combined company for more than a decade and planned to step down next year.
Mr Marchionne has been succeeded by Briton Mike Manley, head of the Italian-American firm's Jeep division.
"Unfortunately, what we feared has come to pass. Sergio Marchionne, man and friend, is gone," said group chairman John Elkann, a member of the Agnelli family that controls the company.
Mr Marchionne was seen as the driving force behind the carmaker's growth.
An accountant and lawyer by training, Mr Marchionne joined Fiat in 2004 after the death of its patriarch Gianni Agnelli.
Famous for his signature black jumpers, sharp tongue and workaholic lifestyle, he is credited with saving both Fiat and Chrysler from bankruptcy.
Fiat ex-boss Marchionne dies at 66