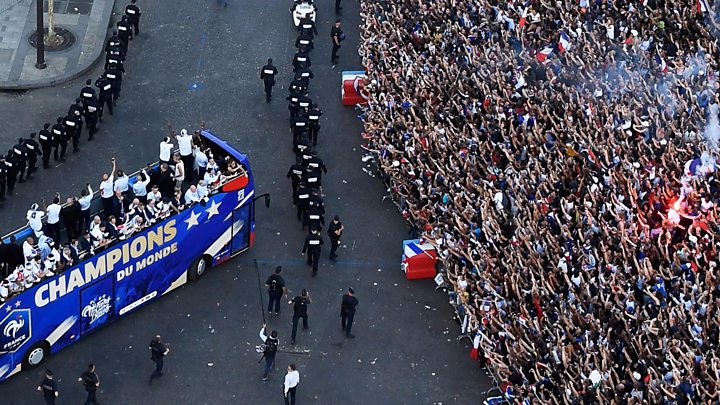 France's victorious football team has paraded the World Cup before hundreds of thousands of fans in Paris.
Jubilant crowds lined the capital's main artery, the Champs-Elysées, to greet the team's open-top bus.
Jets saluted the players and the coach overhead, trailing smoke in French red, white and blue.
The team was then honoured with an official reception by President Emmanuel Macron. France beat Croatia 4-2 in the final in Moscow on Sunday.
It is France's second World Cup win, following their triumph in 1998.
Mr Macron's office announced that the players and their coach would receive the country's highest accolade – the Légion d'Honneur.
Captain Hugo Lloris and coach Didier Deschamps were the first to emerge from the plane after landing earlier on Monday, raising the competition's golden trophy to the cheering crowds of fans who had gathered to greet them.
One of the players, Raphaël Varane, tweeted this video from the parade:
Later, Mr Macron and his wife, Brigitte, joined the players in a rendition of the French national anthem on the presidential palace steps.
Mr Macron thanked the footballers for "having made us proud".
"Never forget where you come from: all the clubs across France that trained you," he told them in the palace's gardens.
Some 3,000 people were invited to the presidential reception, including 1,000 youths from football clubs around the country such as Bondy, the Paris suburb where 19-year-old forward Kylian Mbappé first started his career, "in order that they can welcome the Blues".
In amongst the joyful displays of national pride, there have also been reports of female fans being sexually harassed.
One Twitter user collated reports by other users of the type of harassment they faced during the celebrations on Sunday night, ranging from forced kisses to inappropriate touching.
Fans partied across France overnight, but celebrations in some cities were also marred by violence. Police fired tear gas as sporadic clashes broke out in Paris, Lyon, Strasbourg and Rouen.
Dozens of youths broke into a shop on the Champs-Elysées and stole wine and champagne.
But the national mood was one of joy, and Paris transport company RATP said it was celebrating the success of Les Bleus by renaming some stations after the victors.
They include Victor Hugo Lloris, after the team's captain and goalkeeper, and Deschamps-Elysées, in honour of the coach.
France's World Cup team given heroes' welcome in Paris