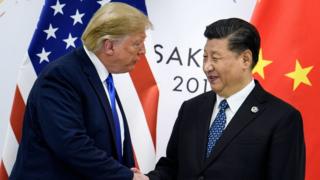 The United States and China have agreed to resume trade negotiations, easing a protracted row that has fuelled a global economic slowdown.
US President Donald Trump and Chinese President Xi Jinping reached the agreement on the sidelines of the G20 summit in Japan.
Mr Trump said the talks had been "excellent".
He had threatened to impose an additional $300bn (£236bn) in tariffs on Chinese imports.
US and China – the world's two largest economies – have been fighting a damaging trade war over the past year.
Speaking after his meeting with Mr Xi at the summit, the US president said negotiations were back on track.
China's official state news agency Xinhua said the US had agreed not to impose new tariffs on Chinese imports. The US side has not commented on this.
G20 summit: Trump and Xi agree to restart US-China trade talks