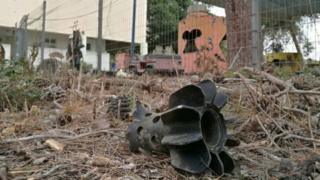 Palestinian militants in Gaza have fired dozens of mortars at Israel in the heaviest such barrage in years.
Some 28 shells were launched. Most were intercepted by Israel's missile defence shield. One landed in a kindergarten, slightly wounding a worker.
Palestinian media reported Israeli artillery fire on Gaza afterwards. There are no other reports of injuries.
The latest flare-up follows weeks of Israel-Gaza violence which has seen more than 100 Palestinians killed.
They were shot dead by Israeli snipers amid protests which saw thousands of Palestinians mass on the Gaza-Israel border in support of their refugee population.
Israel said its snipers had opened fire on attackers or people attempting to infiltrate under cover of protests, but UN and human right officials have accused Israel of using disproportionate force.
'Forceful response'
Sirens rang out in southern Israeli communities in the early hours of Monday, warning of incoming fire.
The Israeli military said a volley of mortar shells were fired at several sites in Israel, with most intercepted by the Iron Dome anti-missile defence system.
Some mortars landed, included one in the grounds of a kindergarten in the Eshkol region, which borders the Gaza Strip, shortly before pupils were due to arrive.
Three more shells were launched in two subsequent attacks, the Israel Defense Forces (IDF) said.
Israeli Prime Minister Benjamin Netanyahu said the Israeli military "will respond very forcefully" to the attacks, which he blamed on Gaza's ruling Hamas movement and the smaller Gaza-based militant group Islamic Jihad.
The official news agency of the West Bank-based Palestinian Authority, Wafa, said Israel had fired at least 10 artillery shells at sites east of Gaza City after the first mortar attack, causing damage but no injuries.
Hours earlier, militants in Gaza had fired a machine-gun at the Israel border town of Sderot, hitting houses and vehicles but causing no injuries, the IDF said.
The upsurge in violence came after Israeli tank-fire killed four militants in Gaza in two separate incidents. A member of Hamas was killed on Monday amid an attempt to breach the border and carry out an attack, while on Sunday three members of Islamic Jihad were killed after placing an explosive device on the border fence, the IDF said.
The latest cross-border violence is some of the heaviest since a 50-day war between Israel and militants in Gaza in 2014. That followed an upsurge of rocket fire into Israel, and the killing by Israel of the commander of Hamas's military wing.
Gaza mortar barrage fired at Israel heaviest in years}