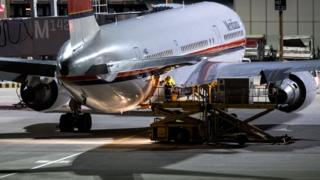 German Interior Minister Horst Seehofer has joked that 69 Afghan migrants were deported on his 69th birthday.
The 69 were sent on a flight on 4 July. Yet Afghanistan is not seen as a safe country, with the Taliban and other Islamists fighting government forces.
Mr Seehofer was presenting a "migration masterplan", which was not agreed with his German coalition partners.
Meanwhile, an Italian-flagged supply ship carrying rescued migrants has been refused permission to dock in Italy.
The Vos Thalassa, serving oil rigs in the Mediterranean, rescued 66 people adrift off the Libyan coast, Italian media report.
After being turned away from Italian ports, it handed the migrants over to the Italian coastguard.
Italy's tough stance
Italy's new populist government, determined to stop the influx of migrants from North Africa, has blocked charity rescue ships from its ports for weeks.
Senior officials have accused the humanitarian groups of operating a "taxi service" for migrants, which they say endangers lives by encouraging human smuggling.
The Vos Thalassa, however, is an Italian vessel, rather than a foreign-flagged charity ship, and was not specifically on a search-and-rescue mission.
It is the first time a private Italian ship has been blocked from the ports of its home country because of the migrant policy.
Since June, there have been several major diplomatic rows over the fate of migrant rescue ships bound for Italy – traditionally a first port of call for charity ships carrying those found at sea.
'On my birthday'
The EU has vowed to step up deportations of failed asylum seekers – part of a complex and controversial drive against illegal migration.
A report from the German news agency DPA (in German) says Afghan officials were angry that Germany had sent such a large group, as an upper limit of 50 per flight had been agreed. Of the 69 migrants, 51 were deported from Bavaria, Mr Seehofer's home state.
"Of all things on my 69th birthday – and I didn't order this – 69 people were sent back to Afghanistan," Mr Seehofer said. "That's way above the usual level so far."
His "migration masterplan" includes proposals for temporary checkpoints on motorways from neighbouring countries, from which there is usually free travel.
Migrant 'transit centres'
And he wants "transit centres" for rapid vetting of migrants at the Austrian border – an idea rejected by the Social Democrats (SPD), who are partners in Chancellor Angela Merkel's government.
Only last week Mrs Merkel hammered out a deal on asylum policy, which defused a crisis with Mr Seehofer. The row had threatened to fracture the coalition.
Mr Seehofer insists that any migrants registered in Italy who seek asylum in Germany must be sent back at the border. Currently 10 or fewer in that category arrive per day.
Mr Seehofer's stance is rejected by his Italian counterpart, Matteo Salvini. He told Italy's Il Messaggero newspaper that he would stop any such return.
Italy instead wants a focus on securing Europe's external borders – and eliminating the problem of unwanted migration at source, in Africa and the Middle East.
International maritime law requires any ship that encounters an emergency to make its way to the area quickly and offer assistance.
The hardline stance on the Vos Thalassa is the latest firm statement from Mr Salvini, and it comes ahead of Wednesday's meeting of EU interior ministers to discuss migration.
German minister jokes as Afghan migrants deported