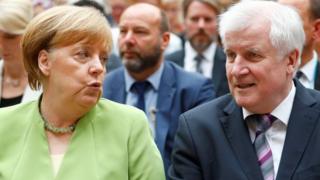 Germany's interior minister plans to hold last-ditch talks with Chancellor Angela Merkel after threatening to quit in protest at her migration policy.
Horst Seehofer heads Bavaria's Christian Social Union (CSU), a key party in Mrs Merkel's coalition.
He argues that police should turn away migrants at the Bavarian border if they have sought asylum elsewhere. But Mrs Merkel is sticking to an EU-wide deal.
The Merkel-Seehofer crisis talks are set for 17:00 in Berlin (15:00 GMT).
A compromise looks unlikely, the BBC's Jenny Hill in Berlin reports. The risk for Mrs Merkel is that Mr Seehofer pulls the CSU out of the coalition, leaving her without a parliamentary majority.
How did the events unfold?
On Sunday evening, Mrs Merkel's Christian Democratic Union (CDU) passed a resolution supporting her position on migration. CDU General Secretary Annegret Kramp-Karrenbauer said the party believed a European solution was necessary.
Then reports emerged from the CSU – the CDU's Bavarian sister party – that Mr Seehofer had offered to step down both as party leader and interior minister.
Mr Seehofer complained during a meeting of top CSU officials that he had held a "conversation with no effect" with Mrs Merkel on Saturday, when they discussed a new EU deal on migration, sources said.
Senior figures immediately tried to persuade Mr Seehofer not to quit, including CSU parliamentary group chief Alexander Dobrindt. "This is a decision that I just cannot accept," Mr Dobrindt was quoted as saying.
In the early hours of Monday, the party leader then announced he had agreed to hold final talks with the CDU as a "concession" in the interest of the country and the coalition.
Is it a power struggle?
Yes. The CDU-CSU alliance has lasted for decades, but it could break up over this, at a critical time for both parties.
Bavarian state elections will be held in October, and the far-right Alternative for Germany (AfD) is a threat to both parties.
The AfD surged into the German parliament (Bundestag) for the first time last year, winning 94 seats. Its success was based on strident anti-immigration rhetoric, attacking Mrs Merkel's decision to let in more than a million asylum seekers in 2015-2016.
However, opinion polls have suggested that Bavarians are more satisfied with Mrs Merkel than with the CSU leader, weakening Mr Seehofer's position.
A new poll from RTL/n-TV suggests that CSU support has fallen 4.5% in Bavaria since the 2017 elections, to 34%. Nationally the party would be down to 5% – the threshold for entering the Bundestag – rather than 6.2% before.
The CDU is marginally down nationally to 26%, the poll indicates.
What is Mrs Merkel's position?
Mrs Merkel stayed up with EU leaders until dawn on Friday to clinch a new deal on migrants.
She said Greece and Spain had agreed to take back migrants stopped at the Bavarian-Austrian border who are proven to have entered their countries first – a move she hoped would allay Mr Seehofer's concerns.
"The sum of all we've agreed is equivalent to what the CSU wants – that's my personal view, but the CSU have to decide for themselves," she said.
However, Italy – where most irregular migrants arrive – does not want to take back migrants who reach Germany.
Some 14 EU states had agreed to take back migrants who reached Germany, according to a document circulated by the government in Berlin.
The divisions within the German government over the issue are also being played out in other EU countries, and three countries later said they were not part of the German deal: the Czech Republic, Hungary and Poland.
Germany migrants: Key Merkel ally Seehofer threatens to quit