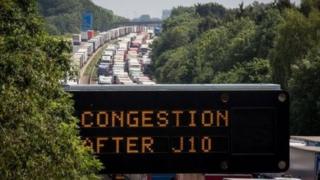 A giant 13-mile lorry park on the M20 could last for years in a no-deal Brexit situation, a council has warned.
An impact assessment by Dover District Council has expressed concern over how ports would cope with the potential situation.
The document is critical of the slow pace of work on a "temporary" scheme, named Operation Brock, and said "there does not appear to be a Plan B".
The BBC has approached the government for a response.
Operation Stack is currently used on closed sections of the M20 in Kent, where lorries park while waiting to cross the English Channel when traffic is disrupted.
The new strategy, Operation Brock, plans to use a contraflow to keep the roads open when problems arise.
The Dover council report stated: "A 13-mile stretch of the coast-bound section of the M20, between junction eight near Maidstone and junction nine near Ashford, will be earmarked to hold heavy goods vehicles, in what will effectively become a giant temporary lorry park holding around 2,000 lorries.
"It is likely a permanent solution will not be in place for many years if enacted through current planning processes and procedures."
The report, released under a Freedom of Information request, said "there could be gridlock around the town" if Brexit "ends up creating regulatory and tariff barriers between the UK and the EU".
"Customs checks on imports from outside the common market can take between five minutes to 45 minutes per vehicle," it added.
"Port officials have warned that increasing the average time it takes to clear customs by as little as two minutes could lead to 17-mile traffic jams."
Conservative MP for Dover Charlie Elphicke tweeted that the report underlined the case for investment in border infrastructure and roads.
He added: "The government has not done enough to prepare in the two years since the EU referendum."
More than 10,000 freight vehicles pass through Dover on peak days as it handles one sixth of the UK's total trade in goods with a value of £119bn per year.
In 2015, queues of 4,600 lorries stretched back 30 miles and the daily cost to the UK economy was estimated at £250m.
Giant M20 Operation Brock lorry park 'could last years'}