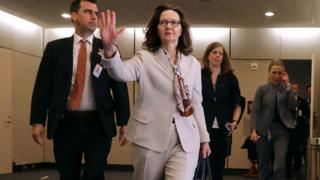 The US Senate has voted to approve Gina Haspel as the first female director of the Central Intelligence Agency.
Her confirmation follows a partisan fight among senators about the spy agency's past use of torture techniques.
Ms Haspel, a CIA veteran, was confirmed by a vote of 51-43. She oversaw a so-called black site in Thailand after the 11 September attack.
The former CIA chief, Mike Pompeo, left to become US Secretary of State.
Gina Haspel confirmed as CIA's first female director