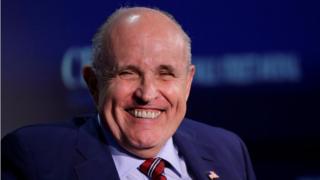 It doesn't take much to tickle the social media fancy – in fact one word was all Donald Trump's lawyer Rudy Giuliani needed to spark a new wave of internet gags.
The former New York City mayor mysteriously tweeted the single word "you", opening up the floodgates for memes and jokes.
His three character message has so far received more than 21k comments, 7k retweets and 19k likes in less than 24 hours.
The apparent mistake has inspired many users to share song lyrics.
Twitter user @justinhendrix quoted a verse and chorus from the Joe Cocker hit track You Are So Beautiful.
The hashtag #RudySongs has also emerged with nearly 1,000 uses since the tweet was posted on Sunday.
This Twitter user echoed Trump's message to Hassan Rouhani after the Iranian president had said war with Iran would be the "mother of all wars", by replicating Eminem's Lose Yourself lyrics.
Lord of the Rings fans will appreciate @Gc123holesolo take on the "you" gag, with their clip of Gandalf declaring "you shall not pass!"
You may also like:
This isn't the first time an unplanned tweet has encouraged song lyric responses from tweeters.
After UK Home Secretary Sajid Javid "pocket tweeted" the letter 'I' on 15 July, @simon_coxon began a chain of tweets which paid tribute to the Human League number one hit Don't You Want Me.
Giuliani's client Donald Trump is no stranger to sparking trending topics with a random word either.
The US president added 'covfefe' to the public's vocabulary when he tweeted it by mistake in May 2017.
But no politician in Britain or the US can match the prestige which surrounds that of former shadow chancellor Ed Balls.
Back in 2011, the star of Strictly Come Dancing tweeted, rather than searched for, his own name.
The 28 April has been celebrated as #EdBallsDay on Twitter ever since.
Giuliani: Trump lawyer's 'you' tweet sparks internet jokes