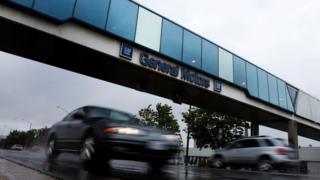 General Motors plans to halt production at five factories in North America and cut thousands of jobs.
The company also plans to close three plants outside North America by the end of 2019.
The moves follow rising costs and slowing car sales and come as the US carmaker focuses on its line-up of trucks, electric and self-driving vehicles.
The company said the plan would help it to save about $6bn (£4.7bn).
That includes a 15% reduction the number of its employees, including 25% fewer executives.
"The actions we are taking today continue our transformation to be highly agile, resilient and profitable, while giving us the flexibility to invest in the future," said GM chairman and chief executive Mary Barra.
"We recognise the need to stay in front of changing market conditions and customer preferences to position our company for long-term success."
General Motors had signalled some of its plans previously.
In February, it said it would close one plant in South Korea and the company offered buyouts to thousands of workers earlier this year.
GM to slash jobs and close 8 plants