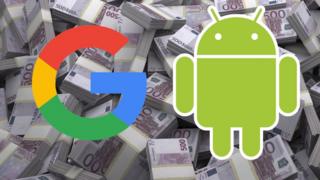 Google is to be fined a record 4.3 billion euros ($5bn; £3.8bn) over its Android operating system, the BBC has learned.
The European Commission's action followed a three year probe into claims the firm's mobile device strategy had unfairly strengthened its dominance of search.
The penalty is set to be confirmed at a press conference in Brussels later.
It will be the largest fine imposed by the regulator against a single firm.
However, Google may challenge the ruling.
Competition Commissioner Margrethe Vestager previously fined Google 2.4bn euros ($2.8bn; £2.1bn ) over a separate probe into its shopping comparison service – a ruling Google is in the process of appealing against.
In addition, her team has a third investigation underway into the firm's advert-placing business AdSense.
Ms Vestager is due to discuss the Android case at 13:00 CEST (12:00 BST).
Market leader
The European Commission first began scrutinising Android in April 2015, following a complaint by Fairsearch – a trade group that originally included Microsoft, Nokia and Oracle among its members.
At that point, Android had a 64% share of Europe's handset market, according to research firm Statcounter. It has since grown to 74%.
The commission subsequently made three specific allegations of anti-competitive behaviour, saying Google was:
requiring Android handset and tablet manufacturers to set its search engine as the default and pre-install the Chrome browser before allowing them to offer access to its Play app store
preventing manufacturers from selling mobile devices powered by rival operating systems based on Android's open source code
giving device manufacturers and mobile networks financial incentives to provide its own search service as the sole pre-installed option
In response, Google had denied obliging device-makers to preload any of its apps.
It had also claimed that distributing Google Search and the Play store together had made it possible to offer its services for free.
"The commission's approach… would mean less innovation, less choice, less competition, and higher prices," its global affairs chief blogged in 2016.
He added that in any case, Apple and its rival iOS operating system gave consumers an alternative.
Russia's push-back
Google has already made concessions in Russia, where the local competition regulator pursued similar complaints.
There, Android users are now offered a choice between Google, Yandex and Mail.ru as the default search engine the first time they use the Chrome browser.
Yandex has seen its share of mobile search rise from about 34% to 46% since the change, according to Statcounter.
But one legal expert said the EU's dispute could take much longer to resolve.
"Google has shown in the past that it is prepared to assert its legal rights," Suzanne Rab, a barrister at Serle Court Chambers, told the BBC.
"It can appeal to the EU courts, and as we've seen in the European Commission's abuse of dominance case against Intel, such litigation can be measured in years and not months."
Google hit with 4.3bn euro Android fine from EU