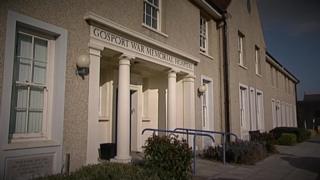 Changes in how NHS whistleblowers are treated are to be introduced in response to the patient deaths scandal at Gosport War Memorial Hospital, the health secretary has promised.
More than 450 patients died between 1987 and 2001 after being prescribed dangerous doses of painkilling drugs.
Matt Hancock said he would "strengthen protection" for staff whistleblowers.
In a Commons statement, he said there had been a "systematic failure to respond to terrible behaviour".
The scandal at Gosport was detailed in a report published in June by an independent panel of inquiry.
The report found 456 lives were shortened between the late 1980s and 2000 as a result of the dangerous over-prescribing of opiates.
Giving the government's formal response, Mr Hancock said: "I reiterate a profound and unambiguous apology for the hurt and anguish of the families."
He outlined proposals for "tough new measures to ensure that lessons are learnt from the serious failings".
Under the plans, every NHS Trust in England will be required to report annually on how concerns raised by staff and patients have been addressed.
Medical examiners are to be introduced to scrutinise all non-coronial deaths. He also announced a controlled drugs regime aimed at detecting inappropriate prescribing of opiates.
Mr Hancock said: "The changes we have made since Gosport mean staff can speak up with more confidence, failings are identified earlier and responded to quicker.
"The reforms we plan to make will mean greater transparency, stricter control of drugs, and a full and thorough investigation of every hospital death."
Gosport hospital deaths: Whistleblowers promised support