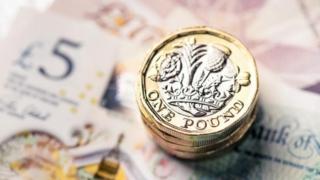 The government borrowed far more than analysts expected in October, the first figures to be published since Philip Hammond's Budget last month show.
The deficit rose to £8.8bn from £7.2bn last year, marking the biggest October figure for three years, and well above the £6.1bn forecast.
However, the amount borrowed so far this financial year is the lowest for 13 years.
The figures come after the chancellor said austerity was coming to an end.
The Office for National Statistics said the current year-to-date borrowing was £26.7bn, which is £11.2bn less than the same period last year and the lowest since 2005.
During his budget announcement the Chancellor also said borrowing is likely to fall over the next five years.
A Treasury spokesperson said it was the government's best year-to-date performance since 2005, adding "our balanced approach is getting debt falling while supporting our vital public services, keeping taxes low, and investing in Britain's future".
Why is borrowing rising in October?
The ONS said there had been "notable" growth in expenditure on goods and services, as well as social benefits.
Interest payments on government debt also increased.
"The increase in borrowing compared to last year was due to a £2.2bn rise in "other" (most likely departmental) spending," said Andrew Wishart, UK economist at Capital Economics.
Should we be worried?
Mr Wishart said the October figures could be a "worrying sign for the Chancellor" if the trend continued.
Samuel Tombs, chief UK economist at Pantheon Macroeconomics, said it was to soon to conclude that the Chancellor would miss the official forecast for borrowing this year.
He points out that the data is often revised and "the Chancellor won't need to respond to a modest overshoot".
What about Brexit?
The nature of the UK's exit from the European Union, is likely to have an impact on the nation's finances.
In October, the Chancellor said that a good Brexit agreement would enable the Treasury to spend a "double deal dividend".
However, a no deal scenario could upset government spending plans, economists say.
"If there is a no deal Brexit, the resulting economic slowdown would probably cause the public finances to deteriorate further," Mr Wishart said.
Government borrowing worse than expected in October}