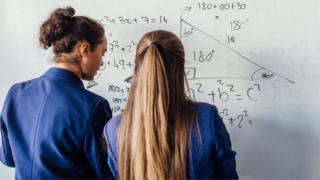 Grammar schools in England will receive £50m to create new places – and a route has been opened to create new faith schools, Education Secretary Damian Hinds has announced.
But the government has ditched its original plans to make it easier for religious groups to open free schools.
Instead local authorities will have funds to open new faith schools.
Mr Hinds said the plans would "give parents greater choice", but union leaders have criticised the decision.
Kevin Courtney, leader of the National Education Union, said: "The grammar school corpse has climbed out of its coffin once again despite evidence of the damage that selective education causes."
The government's loss of its parliamentary majority in the general election forced it to abandon plans to open new grammars – but the allocation of the funding will allow more selective places to be created in existing schools.
Grammar schools seeking money from the "selective schools expansion fund" will have to show they ensure fair access for disadvantaged pupils.
It will allow grammars to grow bigger or to develop spin-off sites along the lines of the Sevenoaks "annexe" built by Weald of Kent Grammar School in Tonbridge last year, which is 10 miles from its main site, with room for 450 pupils.
The leaders of the National Association of Head Teachers and the Association of School and College Leaders said it was wrong to fund grammar schools when school budgets were tight.
But the Grammar School Heads' Association welcomed the move.
Last week, in an address to head teachers, Mr Hinds acknowledged the funding pressure on schools, but did not offer any short-term prospect of extra funds.
Faith schools
The Conservatives also promised during the election campaign to remove the cap on faith-based free schools, which stops them allocating more than 50% of their places on grounds of religion – which would have brought them in line with other faith schools in the state sector.
But the government has ditched this promise – and instead says it will provide funds for local authorities to create a new generation of "voluntary-aided" faith schools.
These will be able to be fully selective on grounds of religion – and the funding for their creation will be taken from the pot of money set for the creation of new free schools.
---
What is a grammar school?
Grammar schools are state secondary schools that select their pupils by means of an exam taken by children at age 11, sometimes known as the 11-plus.
There are 163 grammar schools in England, out of some 3,000 state secondaries, and a further 67 grammar schools in Northern Ireland.
There are no state grammars in Wales or Scotland.
What is a free school?
Free schools are set up by groups of parents, teachers, charities, businesses, universities, trusts, religious or voluntary groups, but funded directly by central government.
They are often run by an "education provider" – an organisation or company brought in by the group setting up the school – but these firms are not allowed to make a profit.
The schools are established as academies, independent of local authorities. Unlike local-authority-run schools, they are exempt from teaching the national curriculum and have increased control over teachers' pay and conditions and the length of school terms and days.
What is a faith school?
State-funded faith schools have to follow the national curriculum but they can choose what they teach in religious studies.
Anyone can apply for a place but if the school is oversubscribed, faith schools can use religious criteria to select pupils. However, with the exception of faith grammar schools, they must offer a place to any pupil if a space is available.
House of Commons research last year found around a third of state-funded schools in England had a "faith designation". The vast majority were Christian, with a small number of Muslim, Jewish and Sikh faith schools.
---
The highest achieving school in the most recent GCSE exam league tables was a Muslim school in Blackburn.
The Local Government Authority welcomed the government's decision to work with councils to open new schools.
But it said the focus should not be exclusively on selective, faith-based and free schools and that the best way to meet the demand for school places was to let councils open more schools themselves.
Labour's Shadow Education Secretary Angela Rayner said the government is "pursuing its own vanity projects" instead of "following the evidence on what is best for pupils".
She said: "The continued obsession with grammar schools will do nothing for the vast majority of children, and it is absurd for ministers to push ahead with plans to expand them when the evidence is clear that they do nothing to improve social mobility."
Archbishop Malcolm MacMahon, speaking on behalf of the Catholic education sector, said the government had "broken a promise" over changes to free school admissions – but Humanists UK described the retention of their 50% cap as a "victory for integration".
The Church of England said it welcomed the opportunity to open new schools – and said dropping the plans to change the rules over free schools would not "impact on that commitment".
Launching the plans, Mr Hinds said: "Children only get one chance at an education and they deserve the best, wherever they live and whatever their background.
"By creating new schools where they are needed most and helping all great schools to grow, we can give parents greater choice in looking at schools that are right for their family – and give children of all backgrounds access to a world-class education."
Grammar and faith schools get green light to expand}