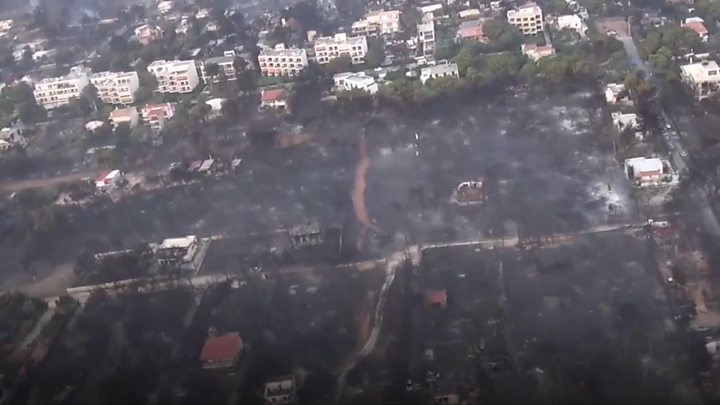 Greek authorities are looking for dozens of people missing after the deadly wildfires near Athens.
The local mayor says at least 77 people have died. A search for survivors who fled the blaze – including those who took to the sea – continues.
High winds spread the fire, trapping many in homes and vehicles and forcing others into the sea as they tried to escape the flames.
Prime Minister Alexis Tsipras has declared three days of mourning.
One father, Yiannis Philippopoulos, told Greek television his nine-year-old twin girls were still missing.
He said he saw his daughters, Sophia and Vasiliki, alive on TV news footage as they got off a fishing boat which had rescued them.
He has not heard from them, or their grandparents, who had been with them earlier that day.
There is no formal count of the missing. The fire brigade has received dozens of calls and has been unable to verify the exact number.
Relatives of those reported missing have posted photographs of more than 30 people online in the hope of tracing their whereabouts.
The mayor of Rafina, Evangelos Bournous, told the BBC on Tuesday that the dead could exceed 100.
Coastal patrol boats combed the shoreline, searching for survivors and bodies, while rescue teams searched houses and cars.
Tourists were also caught up in the blaze, including one British man who was treated for burns. Others have been evacuated to temporary accommodation.
Final embrace
On Tuesday, the bodies of 26 adults and children who apparently died embracing each other were found on a cliff top.
"They had tried to find an escape route but unfortunately these people and their kids didn't make it in time. Instinctively, seeing the end nearing, they embraced, " Nikos Economopoulos, head of Greece's Red Cross, said.
On Monday night, hundreds of firefighters battled the flames, which were fanned by winds of up to 100km/h (60mph).
Prime Minister Tsipras has declared a state of emergency in Attica, saying all emergency services have been mobilised.
Italy, Germany, Poland and France have all sent help in the form of planes, vehicles and firefighters, while Spain and Cyprus have also offered assistance.
'Biblical catastrophe'
The seaside resort of Mati, in Attica, is popular with local tourists, especially pensioners and children attending holiday camps.
Survivor Kostas Laganos said: "It burned our backs and we dived into the water… I said: 'My God, we must run to save ourselves.'"
George Vokas, whose family also escaped by sea, told BBC News that two women he had tried to help had died.
"We're talking about a biblical catastrophe in this wonderful area of Mati," he said.
Charred bodies lay just 15m (50ft) from the sea, photographer Pantelis Saitas told the Athens-Macedonian News Agency.
At least 150 people were injured in the area.
What caused the fires?
Fires are a recurring problem during the hot, dry summer months in Attica.
Officials have suggested the current blazes may have been started by arsonists looking to loot abandoned homes.
"Fifteen fires had started simultaneously on three different fronts in Athens," said government spokesman Dimitris Tzanakopoulos.
Greece, he added, had requested drones from the US to "detect any suspicious activity".
Greece's last major fire disaster was in 2007, when dozens of people were killed in the southern Peloponnese peninsula.
---
Are you in Athens? How have you been affected by the wildfires? Email haveyoursay@bbc.co.uk.
Please include a contact number if you are willing to speak to a BBC journalist. You can also contact us in the following ways:
Greece wildfires: Search for missing family members after 77 dead