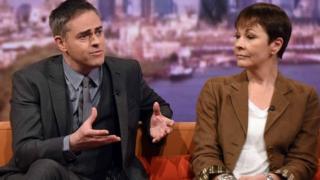 The Green Party of England and Wales has outlined details of its leadership contest to be held this summer.
Caroline Lucas and Jonathan Bartley were elected as co-leaders for a two-year term in September 2016.
Ms Lucas, the MP for Brighton Pavilion and Mr Bartley, elected as a councillor in May, have yet to say whether they will stand on a joint ticket again.
Nominations will open in June, with the result to be announced in September. A deputy leader will also be elected.
Current deputy Amelia Womack's two-year term is also expiring.
The co-leaders, who won 88% of the vote in 2016, have described their joint arrangement as a "first in Westminster politics".
Under their leadership, the Greens saw their share of the vote squeezed in last year's snap general election, although Ms Lucas successfully retained her seat.
The party fared better in May's English council elections, winning 39 seats – an increase of eight on when the seats were last contested in 2014. Mr Bartley was elected to Lambeth council in south London.
The Greens say they have overtaken UKIP – which lost 123 seats on the night – to become the "fourth party" in English local government behind the Conservatives, Labour and the Lib Dems.
In 2007, the Greens moved away from their longstanding tradition of having two principal speakers in favour of electing a leader every two years.
Ms Lucas won elections in 2008 and 2010 but decided against standing in 2012, when she was succeeded by Natalie Bennett who served until 2016.
Green Party prepares for leadership contest}