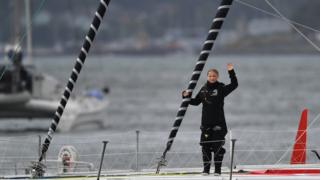 Teenage environmental activist Greta Thunberg has landed in New York after a 15-day journey across the Atlantic by boat.
She will be participating in UN climate summits in New York City and Chile.
The 16-year-old Swede sailed from Plymouth in the UK on a solar-powered yacht in order to minimise the carbon footprint of her travel.
On Wednesday morning, she anchored at Coney Island and expects to come ashore this afternoon.
Greta was expected to arrive sooner, but rough seas slowed her progress. She will be attending the UN Climate Action summit next month.
As she departed the UK two weeks ago, she told the BBC that travelling by boat sends a signal that "the climate change crisis is a real thing".
The teenager has made headlines for her "school strikes" which have inspired a worldwide climate change protest movement.
Greta Thunberg: Climate change activist sails into New York City