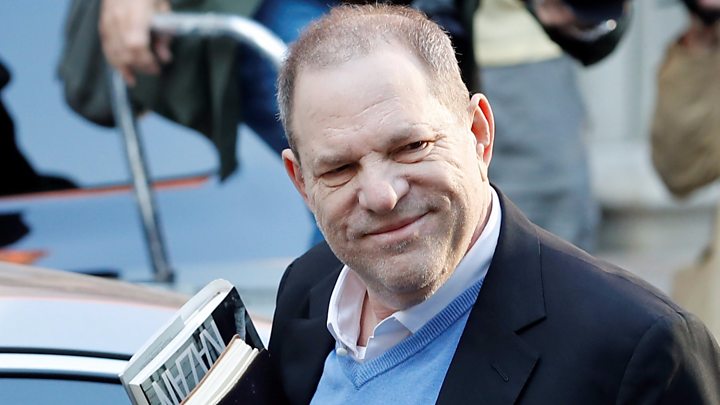 Former Hollywood mogul Harvey Weinstein has been charged in New York with rape and several counts of sexual abuse stemming from two separate accusers.
Mr Weinstein turned himself in to police in the city earlier in the day.
Dozens of women have made allegations against the 66 year old, including rape and sexual assault, and giving rise to the #MeToo movement.
Mr Weinstein has denied committing any non-consensual sex acts. He is now out on bail, wearing a monitoring device.
He arrived at the police station in lower Manhattan at 07:30 (12:30 BST), carrying three books. He was later was photographed smiling as he was escorted out the station in handcuffs.
A statement from the New York Police Department said Mr Weinstein "was arrested, processed and charged with rape, criminal sex act, sex abuse and sexual misconduct for incidents involving two separate women".
The statement thanked "these brave survivors for their courage to come forward and seek justice". Details of the allegations and of those making the accusations have not yet been officially released.
Former actress Lucia Evans, who said Weinstein forced her into oral sex in 2004, is thought to be one of the women whose cases triggered the charges. Another is actress Paz de la Huerta, who accused Mr Weinstein of raping her at her New York apartment in 2010.
The allegations against the former film mogul triggered the #MeToo movement, which sought to demonstrate and draw attention to the widespread prevalence of sexual abuse and harassment.
Who else has accused Mr Weinstein?
The Hollywood mogul has faced accusations of sexual harassment and assault from dozens of women. Some have alleged rape. Actresses Kate Beckinsale, Lysette Anthony and Gwyneth Paltrow are among the high-profile figures to have spoken out.
Actress Ashley Judd is suing the 66-year-old Hollywood producer, claiming he damaged her career after she rejected his sexual advances.
One of the cases was in New York, where Italian model Ambra Battilana accused Mr Weinstein of groping her in 2015. Investigators decided not to charge him even though there was an audiotape of Mr Weinstein accepting he had touched Ms Battilana's breasts and pledging not to do so again.
Prosecutors in Los Angeles are reviewing several cases involving accusations against Mr Weinstein after police investigations, and London's Metropolitan Police are also assessing a sexual abuse allegation against him.
Mr Weinstein was fired last year from his production firm, the Weinstein Company, which later filed for bankruptcy. He has been condemned by top industry figures, and the organisation behind the Oscars expelled him from its membership.
How have people reacted to the latest news?
Some of Mr Weinstein's accusers have welcomed the charges. Actress Rose McGowan wrote that some women had given up hope he would be held accountable.
She said: "Twenty years ago, I swore that I would right this wrong. Today we are one step closer to justice."
Italian actress Asia Argento, who alleges Mr Weinstein sexual assaulted her in the 1990s, reflected on the latest news in a simple tweet saying "Boom".
The Weinstein case and #MeToo
The #MeToo campaign against sexual harassment and abuse swept through Hollywood last autumn, in the wake of the accusations against Mr Weinstein.
The movement was prompted by an invitation from actress Alyssa Milano on Twitter, asking those who had been sexually harassed or assaulted to reply "Me Too". She received half a million responses in 24 hours.
"Me Too" began as an idea back in 2006, with rights activist Tarana Burke, who used it as the name for a group to help those who had been sexually harassed and assaulted.
In January, more than 300 actresses, writers and directors launched the Time's Up project, raising $21m (£15m) in just a month to fund legal assistance for people who suffer harassment, abuse or assault at work.
A number of high-profile figures in entertainment have been accused since the Weinstein story. On Thursday US film star Morgan Freeman apologised following allegations of sexual misconduct.
Weinstein's choice of book
David Sillito, Media and Arts Correspondent
When the former movie mogul arrived at court on Friday, eagle-eyed observers noticed he was carrying a biography of Elia Kazan. Perhaps he was expecting a long wait.
Kazan was a film boss who found himself reviled by large parts of Hollywood in an atmosphere likened to a witch-hunt – making the book an interesting choice for Mr Weinstein to carry into a police station.
Kazan – who directed On the Waterfront, A Streetcar Named Desire, and Splendour in the Grass – faced criticism all his life for his decision to name names to the House Un-American Activities Committee, which investigated communist activity in America the 1940s and 50s.
The investigation led to a blacklist of actors, directors, and screenwriters, ending or putting on hold hundreds of Hollywood careers. Nearly 50 years later, when Kazan was awarded an honorary Oscar in 1999, some refused to applaud and there was a picket outside the auditorium.
Kazan's story is one of defiance in the face of moral outrage. If Harvey Weinstein is trying to send a signal, it doesn't seem to be one of contrition or regret.
Harvey Weinstein charged with rape following New York arrest