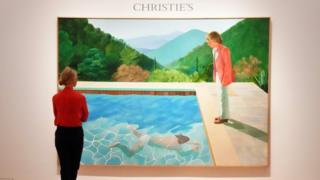 A celebrated painting by British artist David Hockney has been sold at Christie's in New York for just over $90m (£70m) – an auction record for a work by a living artist.
Portrait of an Artist (Pool with Two Figures) had been forecast to fetch $80m.
It sold following a 10-minute battle between two rival bidders via telephone, after the price passed $70m.
The sale eclipsed the previous record held by US artist Jeff Koons.
His stainless steel Balloon Dog (Orange) sold for $58m in 2013.
The packed sales room in New York broke into applause when the hammer fell, with the buyer's premium and commission taking the final price to $90.3m.
Christie's did not name either the seller or the successful bidder.
The Hockney work was painted in 1972 and is one of the Yorkshire artist's most recognisable works.
The composition of the two figures began as two separate photographs on the artist's studio floor and was completed in time for an exhibition at New York's André Emmerich Gallery in 1972.
Christie's described it as "one of the great masterpieces of the modern era".
Earlier this year, another of the 81-year-old's paintings sold for $28.5m – a personal auction record for the artist.
Hockney painting breaks auction record for living artist