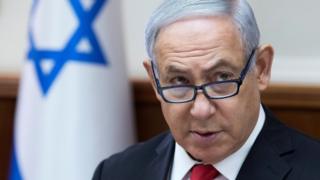 Israel's Holocaust memorial centre has accused the Israeli and Polish leaders of minimising Polish persecution of Jews during the Holocaust.
Benjamin Netanyahu and Mateusz Morawiecki had made a statement saying that Polish networks had tried to help Jews during the Nazi occupation.
But Yad Vashem said their statement was an "offence to historical truth".
It came after Poland agreed to change a law aimed at preventing people saying the country conspired in the Holocaust.
The controversial law now no longer carries the threat of up to three years in jail. It had drawn condemnation from Israel, the US and France.
In their statement, Mr Netanyahu and Mr Morawiecki praised the Polish wartime government-in-exile, saying it tried to "raise awareness among Western allies of the systematic murder" of Polish Jews.
They also said structures of the Polish underground state supervised by the Polish government-in-exile "created a mechanism of systematic help and support to Jewish people".
However Yad Vashem said this contradicted decades of historical research and contained "grave errors and deceptions".
It said much of the Polish resistance in its various movements "not only failed to help Jews, but was also not infrequently actively involved in persecuting them".
Polish assistance to Jews during the Holocaust was "relatively rare", Yad Vashem said, and "attacks against and even the murder of Jews were widespread".
Yad Vashem also said the essence of Poland's law remained unchanged, despite having earlier praised the change as a "positive development".
It said the revised law included the possibility of "real harm to researchers, unimpeded research, and the historical memory of the Holocaust".
Poland's ruling Law and Justice party has focused on the behaviour of Poles during the Second World War, and says previous Polish governments have taught young Poles to be ashamed of their history.
The controversial legislation was partially designed to prevent the use of the phrase "Polish death camps" – referring to Nazi death camps such as Auschwitz – in international media and elsewhere.
However it explicitly referred to complicity in Nazi crimes by the Polish nation or state.
During World War Two, Poland suffered brutal occupation by the Nazi and Soviet regimes and more than five million Polish citizens, three million of them Jews, died.
Holocaust centre: Leaders 'minimised Polish persecution'}