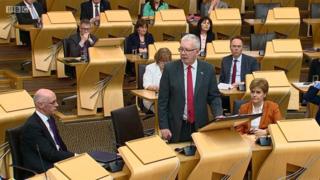 The Scottish Parliament has refused to give its consent to the UK's main piece of Brexit legislation.
The Scottish and UK governments are at odds over the EU Withdrawal Bill and what it could mean for devolved powers.
Labour, Green and Lib Dem MSPs united to back SNP members in rejecting the Westminster bill, saying it would restrict Holyrood's powers.
The Scottish Conservatives voted against, and have blamed the SNP for the failure to find an agreement.
MSPs voted by 93 to 30 that Holyrood "does not consent to the European Union (Withdrawal) Bill".
A Labour amendment calling for "cross-party talks in an attempt to broker an agreed way forward" was accepted, and Scottish Brexit minister Mike Russell said he would invite UK ministers to "hear the concerns of all parties" and to discuss "any new ideas".
Both the Scottish and UK governments insist that the door is still open to finding a deal, although both sides also admit they remain some distance apart.
Scottish Conservative constitution spokesman Adam Tomkins told MSPs that "radical" changes had been made to the bill, highlighting backing from Labour in Wales and various Labour and Lib Dem peers.
He said it was "profoundly regrettable" that a deal had not been done between Scottish and UK ministers, saying that "the only government that hasn't compromised is the Scottish government".
---
Analysis by Sarah Smith, Scotland editor
The Scottish government insists this is a highly significant moment, as it is the first time the Holyrood parliament has ever refused consent to a piece of Westminster legislation which is likely to be imposed anyway, without consent.
It is certainly be a constitutional first – but one that can be overcome by Westminster.
The UK government has the authority to simply impose the Brexit legislation on Scotland, even if that is politically problematic. It would overturn 20 years of constitutional convention and precedent.
This prime minister has ignored the will of the Scottish Parliament before. This time last year it voted in favour of a second indyref and the PM said no. There was no noticeable uprising of popular outrage then. And there is unlikely to be so now.
Nicola Sturgeon rarely shies away from a fight with Westminster. It's generally good politics for her to say she is "standing up for Scotland" against ministers in London. She hopes it helps build the case for why Scotland would be better off as an independent country.
Her problem is that this argument has not caught voters' attention. The right of the Scottish Parliament to have a definitive say over regulations governing the use of pesticides does not appear to cause great concern to Scots.
Some may be outraged over the principle of legislation being imposed on Scotland after it has been specifically rejected by their MSPs.
The practical consequences may not amount to much. Yet it is one more headache for Theresa May in the migraine-inducing process of trying to secure a Brexit deal.
---
The dispute centres on what will happen to devolved powers which are currently knitted into EU-wide frameworks of rules and regulations after the UK leaves the EU.
Both sides have agreed that some powers should go into UK-wide frameworks, but differ over how this should be done and who should have the final say over them in future.
Scottish ministers argue that the devolved parliaments should have to give express consent for changes to these frameworks, while the UK side argues that this would effectively give MSPs the power of veto over frameworks extending right across the country.
The Welsh government has already reached an agreement with UK ministers over devolved powers, and changes reflecting this deal have been written into the current draft of the Withdrawal Bill, set to have its third reading in the House of Lords on Wednesday.
But the Scottish government says there remains a key "point of principle" over consent, and put forward a motion asking MSPs to formally reject the bill.
'Unequal and unacceptable'
During the debate, Mr Russell told MSPs that they needed to defend the progress which has been made in the 20 years of devolution in Scotland.
He said: "It is our job to ensure that it is not cast aside because of a Brexit which Scotland did not vote for and which can only be damaging to our country.
"Today the challenge of Brexit – or rather the challenge of the proposed power grab by the UK government under the guise of delivering Brexit – puts our devolved settlement at risk."
Westminster ultimately has the power to legislate on devolved matters without consent – but has never done so before.
Mr Russell told MSPs that the Withdrawal Bill would add an "unprecedented, unequal and unacceptable new legislative constraint", taking powers away from Holyrood for up to seven years.
He said that the consent vote "will not be the end of this process", as it applies only to the bill "as it stands".
The Scottish government has introduced its own Brexit bill, which was passed by MSPs by a margin of 95 to 32, to fill in for the Withdrawal Bill in Scotland if no agreement can be reached.
However, UK law officers are challenged that "continuity bill" in the Supreme Court.
What has the UK government said in response?
The UK government's Scottish secretary, David Mundell, said he was "disappointed" by the vote, but said the UK parliament remains sovereign and can proceed regardless.
But he said he remained hopeful that an agreement could still be reached between the two governments.
Mr Mundell said: "It's something that was envisaged by the devolution settlement, that there might be circumstances where consent wouldn't be given.
"That circumstance would allow permit the Westminster government to proceed with legislation on that basis, and that's what we intend to do because the bill is already in the system.
"Obviously there'll be the opportunity for debate and discussion in parliament, but also I hope between the two governments. I still think we can resolve this issue, and that remains my objective."
What are the other parties saying?
Scottish Labour's Brexit spokesman Neil Findlay blamed the Conservatives, taking aim at their "shambolic handling" of the affair.
He said the "failure to deliver" sufficient amendments by Mr Mundell and UK ministers had caused the row, saying 2the blame lies largely in their court".
Scottish Greens co-convener Patrick Harvie hailed the "unity" displayed by SNP, Labour, Green and Lib Dem members saying they would "stand together in defence of the parliament".
Lib Dem Europe spokesman Tavish Scott said the negotiating governments had failed to learn from the "ongoing farce" of Brexit, arguing that leaving the EU was "bad for the UK and bad for Scotland".
Holyrood refuses consent for Westminster Brexit bill}