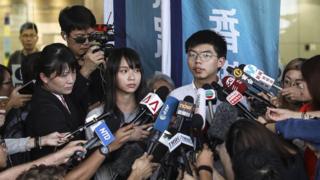 Three prominent Hong Kong democracy activists have been charged over a protest at police headquarters.
Joshua Wong and Agnes Chow, from the Demosisto party, were arrested and charged on Friday, while party chairman Ivan Lam, who is not currently in Hong Kong, was charged in his absence.
Legislator Jeremy Tam of the Civic Party was also arrested but it was not clear if he had been charged.
It came as a major pro-democracy march planned for Saturday was called off.
Jimmy Sham, the convener of organisers Civil Human Rights Front, said the group could not get permission to hold the march, and that its priority was to hold protests that were both legally and physically safe.
But one of the other organisers, Bonnie Leung, told the BBC that people would "be clever" and find "legal and safe ways" to protest anyway.
"I don't think the movement will end at all," she said. "If the government is trying everything to threaten people away, or it's trying to wait for the movement to die down, it's not going to achieve that."
Demonstrations that began in protest against a now-suspended extradition bill have since turned into wider demands for more autonomy in the former British colony.
Hong Kong police on Friday appealed to members of the public to cut ties with "violent protesters", and warned people not to take part in the now-cancelled march.
The march would have marked the 13th consecutive weekend of protests had it gone ahead.
What happened to Joshua Wong and Agnes Chow?
The Demosisto party says Mr Wong, 23, was "suddenly pushed into a private car on the street" while walking to a train station at around 07:30 (23:30 GMT Thursday).
Both he and Ms Chow were taken to police headquarters in Wan Chai. Mr Wong later tweeted to say their "fundamental rights" were being "eroded".
Both Mr Wong and Ms Chow were charged with unlawfully organising a rally on 21 June, at which protesters blockaded police headquarters for 15 hours. The case was adjourned until November and the activists were released on HK$10,000 (£1,045) bail.
"We can see very clearly that the regime and the Hong Kong government is trying to create a 'white terror' to try and scare Hong Kong people not to participate in the social movement and in the democratic movement in the future," Ms Chow told AFP.
"But we Hong Kong people won't give up and won't be scared by these 'white terror' and injustice."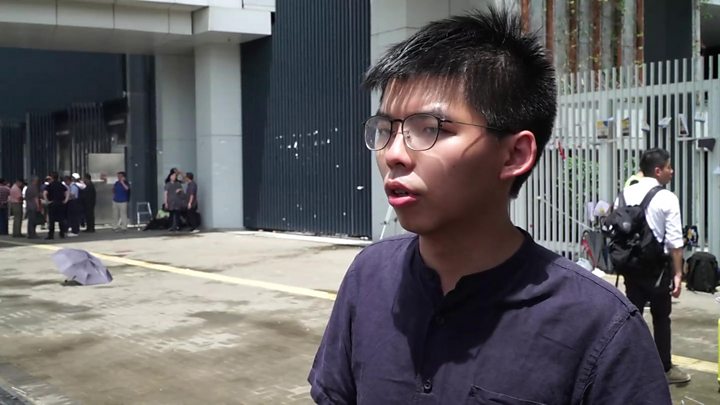 Joshua Wong is a well-known pro-democracy activist who played a leading role in the 2014 rallies known as Hong Kong's "Umbrella protests" – so-called because protesters used umbrellas to shield themselves from police pepper spray.
Thousands joined marches demanding the right for Hong Kong to choose its own leader and student leader Mr Wong became the movement's poster boy.
His latest arrest comes just weeks after he was released from prison on 17 June.
Who else was arrested and why?
Andy Chan, founder of the Hong Kong National Party which campaigns for the territory's independence, says he was detained on Thursday night while trying to board a flight from Hong Kong airport.
He was arrested on suspicion of rioting and assaulting a police officer, according to local outlet HKFP.
Lawmaker Cheng Chung-tai of the localist Civic Passion party was also detained, his office said. It was unclear why he was held.
They are among 900 people arrested since the protests began in June.
In a Facebook post, Demosisto called the arrests a "political operation" and warned that they could lead to "a deadly situation that is more difficult to resolve".
EU foreign policy chief Federica Mogherini expressed concern about the arrests, and said the EU would continue to push for a "more positive trend" in the territory.
"The developments in Hong Kong over these last hours are extremely worrying," she told reporters after a meeting of EU foreign ministers in Helsinki.
"We expect the authorities in Hong Kong to respect the freedom of assembly, expression and association as well as the right of people to demonstrate peacefully."
'We have no leader'
The recent protests have been characterised as leaderless – and activist Nathan Law, who co-founded Demosisto, said nobody was inciting protesters.
"There is no leader or platform in this movement," he said. "If someone is inciting citizens to go to the streets, it must be the harsh political violence of [Hong Kong's leader] Carrie Lam.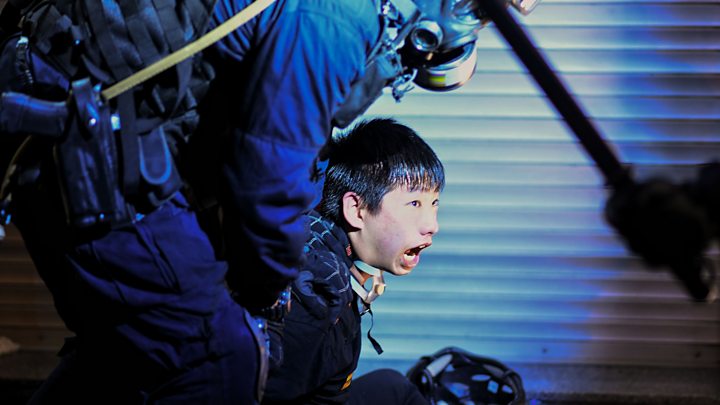 "Demosisto has never been 'leaders' of the movement. Every Hong Kong citizen who has come out has done so according to his own conscience. No matter how the Chinese Communist Party attempts to smear this, nothing can change that fact.
"We appeal to the public not to be afraid of political violence… and continue to fight for their rights. Hong Kong people, go!"
Why are people protesting?
The protests began as rallies against a controversial extradition bill – now suspended – which would have allowed criminal suspects to be sent to mainland China for trial.
They have since expanded in scope, becoming a broader pro-democracy movement.
Beijing has repeatedly condemned the protesters and described their actions as "close to terrorism". Reuters news agency reports that earlier in the summer China denied a request by Carrie Lam to fully withdraw the extradition bill to help ease tensions and end the unrest.
The protests have frequently escalated into violence between police and activists, with injuries on both sides, and activists are increasingly concerned that China might use military force to intervene.
On Thursday, Beijing moved a new batch of troops into Hong Kong. Chinese state media described it as a routine annual rotation.
But an editorial in the China Daily newspaper emphasised the presence of Chinese troops was not symbolic, and they would have "no reason to sit on their hands" if the situation deteriorated.
A guide to the Hong Kong protests
---
Hong Kong activists arrested: Joshua Wong and others charged