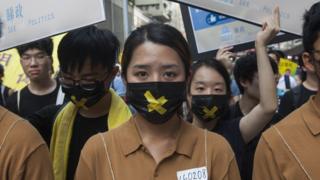 An annual pro-democracy protest in Hong Kong saw one of its lowest turnouts in history on Sunday, amid sweltering heat in the administrative region of China.
Protesters were marking the 21st anniversary of the former British colony's return to Chinese rule.
Organisers said 50,000 protested, while police put the figure at 9,800 – the lowest recorded by both camps.
Hong Kong's pro-democracy movement has been weakened in the past year, with prominent activists jailed.
Hong Kong was returned to China in 1997. Under the so-called "one country, two systems" formula, Hong Kong enjoys a high degree of autonomy but not full democracy.
Massive street demonstrations erupted in 2014 against Beijing. Protesters accused mainland China of encroaching more and more on the region.
Hundreds of police were deployed on Sunday as demonstrators marched through the streets carrying banners. Some carried yellow umbrellas, a symbol of democratic activism.
Pro-democracy activist Lui Yuk-lin burned a portrait of Chinese President Xi Jinping.
The flames were extinguished by security guards.
Some protesters were pictured wearing Pinocchio masks depicting Hong Kong Chief Executive Carrie Lam, who is seen by activists as a representative of Beijing's interests.
Pro-democracy activist Joshua Wong, who became famous for his role in the protests in 2014, spoke to supporters at the march.
In response to the protest, the government said in a statement that "chanting slogans which disrespect" the one country, two systems formula "was not in line with Hong Kong's overall interests and would undermine its development."
Various other causes have become a part of the annual protests, including recycling, environmental issues, and property prices.
Hong Kong pro-democracy protests draw low turnout}