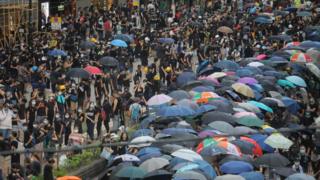 Hong Kong police have fired tear gas at unauthorised protests near the Chinese government's office and a busy shopping district.
Tens of thousands of demonstrators have taken over streets near Sai Wan and Causeway Bay on Hong Kong Island.
They are protesting against alleged police brutality, and demanding democratic reform.
Hong Kong has seen eight consecutive weekends of anti-government and pro-democracy protests.
On Saturday, police fired tear gas and rubber bullets at another pro-democracy protest in Yuen Long, in the north.
Hong Kong is ranked as one of the safest cities in the world – but recent protests have been followed by violent clashes between demonstrators, police and masked men wielding sticks suspected of being criminal gang members.
Police had authorised a static sit-in at Chater Gardens, a public square in the central business district, on Sunday – but did not permit a march, citing safety concerns.
However, the rally quickly spilled out from the square, with protesters blocking roads and marching towards Sai Wan, where the Chinese government's offices are based, and Causeway Bay, a downtown shopping area.
Some protesters chanted "reclaim Hong Kong" and "revolution of our times", or held up banners that read "end the violence".
Other demonstrators set up barricades in the street.
How did we get here?
Demonstrations began when the Hong Kong government introduced a controversial bill that would have enabled extraditions to mainland China.
It sparked huge protests as critics feared the bill would undermine Hong Kong's freedoms, and be used to target political activists.
The row intensified as police were accused of using excessive force on anti-extradition bill protesters.
Tensions increased further last Sunday, when suspected triad members descended on a subway station in Yuen Long, beating protesters, passersby and journalists with sticks.
Demonstrators accused the police of colluding with the triads – claims angrily denied by the police.
The authorities say they have arrested 12 people over the attack, including nine men with links to triads.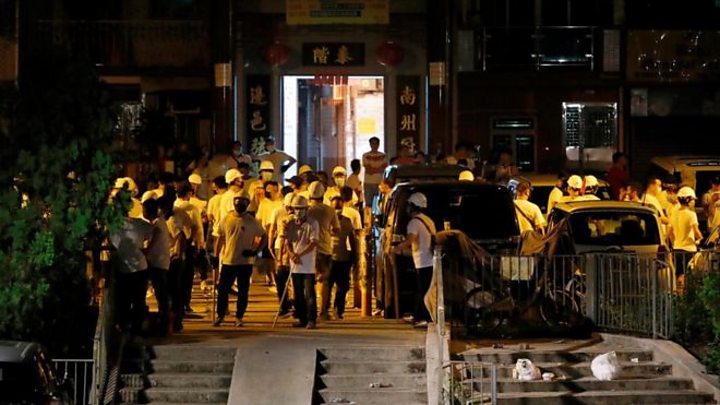 The anti-extradition protests have morphed over time into a wider movement.
While the government has paused work on the extradition bill, protesters now want it withdrawn completely, as well as an independent inquiry into police violence, and democratic reform.
They want the territory's leader, Carrie Lam, who is not democratically elected, and whose handling of the crisis has been widely criticised, to resign.
Some protesters have also expressed their anger at the mainland Chinese government, which they say has been eroding freedoms in Hong Kong.
Last week, demonstrators stormed the Chinese government's office and defaced the national emblem.
The authorities have now installed a protective casing around the sign.
Timeline of events 2019
3 April – Hong Kong government introduces amendments to the city's extradition laws to the legislature that would allow criminal suspects to be extradited to mainland China.
9 June – In the first of many huge protests against the changes, an estimated million people march to government headquarters.
12 June – Anti-extradition bill protesters block roads and try to storm government buildings – police fire tear gas, rubber bullets and bean bag rounds at protesters, in the worst violence the city has seen in decades.
15 June – Hong Kong leader Carrie Lam indefinitely delays the bill in a dramatic reversal.
16 June – Despite this, an estimated two million people take to the streets demanding the complete withdrawal of the bill, an investigation into alleged police violence, and Carrie Lam's resignation.
21 June – As anger grows towards police, protests blockade police headquarters for 15 hours. They now also want protesters that were arrested to be exonerated.
1 July – On the anniversary of Hong Kong's handover from the UK to China, the Legislative Council (LegCo) building is stormed and broken into by protesters.
21 July– Protesters deface China's Liaison Office in Hong Kong. That same night mobs of men wearing white shirts attack protesters and commuters in Yuen Long station, near mainland China, in a new escalation of violence.
Hong Kong protests: Police fire tear gas in Causeway Bay}