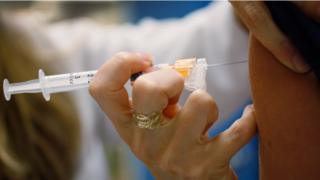 A jab that protects against cervical cancer should also be given to boys, an advisory committee has recommended.
The Joint Committee on Vaccination and Immunisation recommends a "gender neutral" vaccination programme to protect against the HPV virus.
The vaccine is routinely offered to girls aged 12 to 13 at secondary school and is free up until they turn 18.
The JCVI advises extending immunisation to adolescent boys at the same age as girls.
A Department of Health and Social Care spokeswoman said it was carefully considering the committee's advice and would provide an update on its decision shortly.
HPV jab should be given to boys, committee says