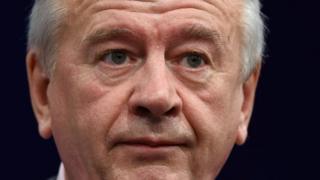 The chairman of the HS2 rail programme, Britain's biggest infrastructure project, has told BBC News he expects to be sacked in the coming days.
Sir Terry Morgan, who only took up the role four months ago, has also been involved in London's Crossrail project for the past decade.
Speaking to PM on Radio 4 he said there was disappointment at Westminster about the delays affecting Crossrail.
HS2 is the government's £55.7bn planned high-speed rail network.
It will connect London to Birmingham and to Manchester and Leeds.
Sir Terry started work at HS2 in August. When Sir Terry was appointed, Transport Secretary Chris Grayling called him "world-class".
Phase one, linking London to Birmingham, is due to open in December 2026, while the onward legs to Manchester and Leeds open by 2032-33.
HS2 chairman expects to be sacked}