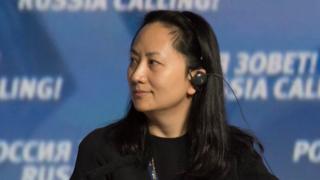 Canadian Prime Minister Justin Trudeau says his government had no involvement in the arrest of a top executive from Chinese telecoms giant Huawei.
Meng Wanzhou was detained at Vancouver airport on Saturday on an extradition request from the US.
China has demanded her release, and called the arrest a human rights violation.
The charges remain unknown but the US has been probing Huawei over possible violation of Iran sanctions.
Huawei said it was "not aware of any wrongdoing by Ms Meng".
She faces a bail hearing on Friday.
Speaking to reporters in Montreal, Mr Trudeau said his government was told about the arrest a few days beforehand, but it did not play a role.
Huawei arrest: Justin Trudeau denies political motivation