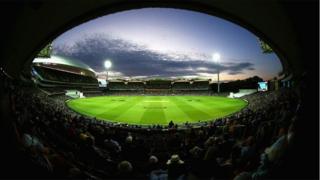 Australia has scrapped a day-night cricket Test match after India refused to play, officials say.
The game scheduled for December in Adelaide using the pink ball will now be held in normal daylight hours.
Australia have played four day-night Tests since 2015 – three of them in Adelaide – and won all of them.
Analysts say India, who have not played a pink-ball Test, are reluctant to give the hosts an advantage as they seek a first Test series win in Australia.
"We can confirm that we have received advice from the Board of Control for Cricket in India (BCCI) that it is not prepared to participate in a proposed day-night Test in Adelaide this summer," Cricket Australia chief James Sutherland said in a statement quoted by the AFP news agency.
"As a result, we can now confirm this Test match will be a day format."
India, the world's top-ranked team, said they didn't want to play their first day-night Test during such a high-profile series.
"Yes, it's pretty clear that we are not playing a day-night Test in Australia, no doubt about it," BCCI administrator Vinod Rai told AFP earlier this year.
Mr Sutherland told Melbourne-based radio station SEN News that "there's always a bit of trepidation and conservatism in India and, to be frank, I think they want to come out here and beat us".
"There's a sense that perhaps Australia has won each of the pink-ball Test matches played in Australia, it gives us a bit of an advantage."
Mr Sutherland said Australia would still play a day-night Test against Sri Lanka in Brisbane in January.
The late start, finish and pink ball are still novelties in the five-day form of the game, and many believe that the day-night format is a way to revive interest in Test cricket in a cricketing era increasingly in thrall to the quick hits of Twenty20.
India says no to day-night Australia Test}