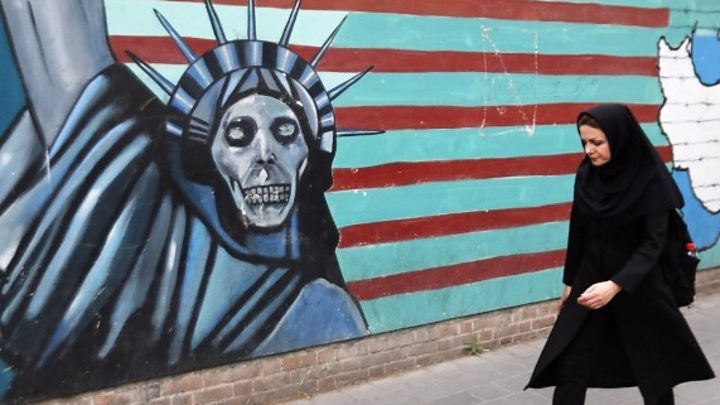 France's Foreign Minister Jean-Yves Le Drian says the Iranian nuclear deal is "not dead" despite US President Donald Trump's decision to withdraw.
The 2015 agreement curbed Iran's nuclear activities in return for the lifting of sanctions that had been imposed by the UN, US and EU.
But Mr Trump argued that the deal was "defective at its core", saying he would pull out and reimpose sanctions.
Other signatories to the nuclear accord say they remain committed to it.
The deal was agreed between Iran and the five permanent members of the UN Security Council – the US, UK, France, China and Russia – plus Germany.
Iran has also said it would try to salvage the agreement, but would restart uranium enrichment if it could not.
In a statement, President Hassan Rouhani said: "I have ordered the foreign ministry to negotiate with the European countries, China and Russia in the coming weeks.
"If we achieve the deal's goals in co-operation with other members of the deal, it will remain in place."
There were furious scenes in the Iranian parliament, with members burning an American flag and the speaker reportedly saying Mr Trump lacked "mental capacity".
How do key powers see Mr Trump's decision?
In his comments to French radio, Mr Le Drian said "the deal is not dead. There's an American withdrawal from the deal but the deal is still there".
He said there would be a meeting between France, Britain, Germany and Iran on Monday.
Russia said it was "deeply disappointed" by Mr Trump's decision while China expressed regret.
But the move has been welcomed by Iran's major regional rivals, Saudi Arabia and Israel.
Israeli Prime Minister Benjamin Netanyahu, a prominent critic of the accord, said he "fully supports" Mr Trump's withdrawal from a "disastrous" deal.
Why did the US withdraw?
In his address on Tuesday, President Trump called the nuclear accord – or Joint Comprehensive Plan of Action (JCPOA) as it is formally known – a "horrible, one-sided deal that should have never, ever been made".
He said he would work to find a "real, comprehensive, and lasting" deal that tackled not only the Iranian nuclear programme but its ballistic missile tests and activities across the Middle East.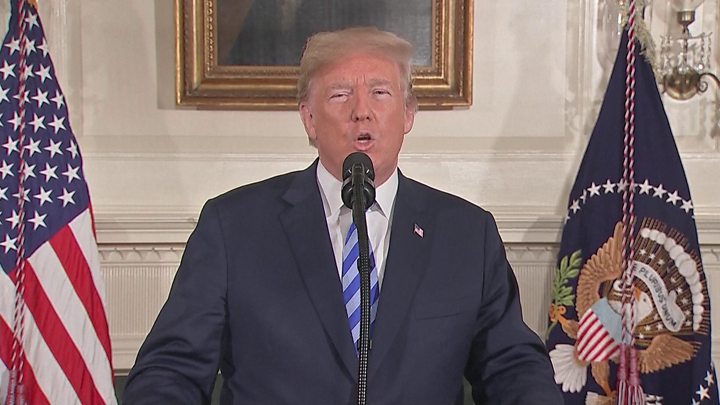 Mr Trump also said he would reimpose economic sanctions that were waived when the deal was signed in 2015.
The US Treasury said the sanctions would target industries mentioned in the deal, including Iran's oil sector, aircraft manufacturers exporting to Iran and Iranian government attempts to buy US dollar banknotes.
Major European and US companies are likely to be hit. Some exemptions are due to be negotiated but it is not yet clear what.
US National Security Adviser John Bolton is reported as saying that European companies doing business in Iran will have to stop doing so within six months or face US sanctions.
Collision course
Analysis by Jonathan Marcus, BBC defence and diplomatic correspondent
The deal was not perfect. It did not cover a range of worrying Iranian activities from its missile programme to its regional behaviour.
The inconvenient truth for Donald Trump is that, as far as it goes, the nuclear deal was working.
Despite this, Mr Trump presented it in stark and frankly erroneous terms – for leaving out things that it was never supposed to cover in the first place.
He has put US diplomacy on a collision course with some of Washington's closest allies.
And some fear that he may have brought a new and catastrophic regional war in the Middle East that much closer.
What was agreed under the deal?
The JCPOA saw Iran agree to limit the size of its stockpile of enriched uranium – which is used to make reactor fuel, but also nuclear weapons – for 15 years and the number of centrifuges installed to enrich uranium for 10 years.
Iran also agreed to modify a heavy water facility so it could not produce plutonium suitable for a bomb.
In return, sanctions imposed by the UN, US and EU that had crippled Iran's economy were lifted.
Iran insists its nuclear programme is entirely peaceful, and its compliance with the deal has been verified by the International Atomic Energy Agency (IAEA).
Iran nuclear deal not dead despite US exit, France says