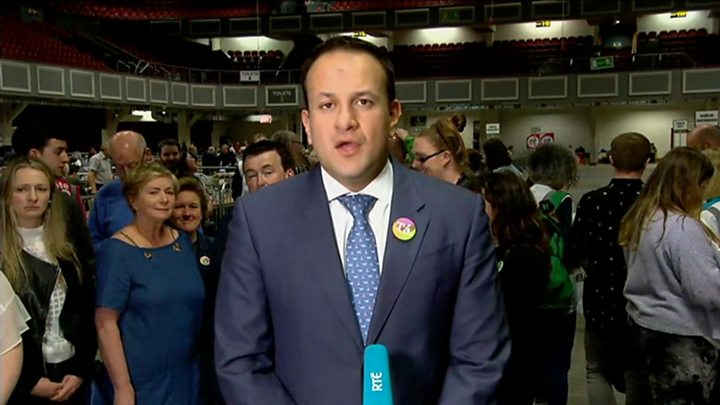 The Irish prime minister has hailed his country's "quiet revolution" as early results point to a "resounding" vote for overturning the abortion ban.
Leo Varadkar was speaking after exit polls suggested a landslide vote in favour of reforming the law.
"The people have spoken. They have said we need a modern constitution for a modern country," he said.
Exit polls suggest about 69% voted to repeal a part of the constitution that effectively bans terminations.
Mr Varadkar, who campaigned in favour of liberalisation, said: "What we've seen is the culmination of a quiet revolution that's been taking place in Ireland over the past 20 years."
The taoiseach (prime minister) added that Irish voters "trust and respect women to make the right choices and decisions about their own health care".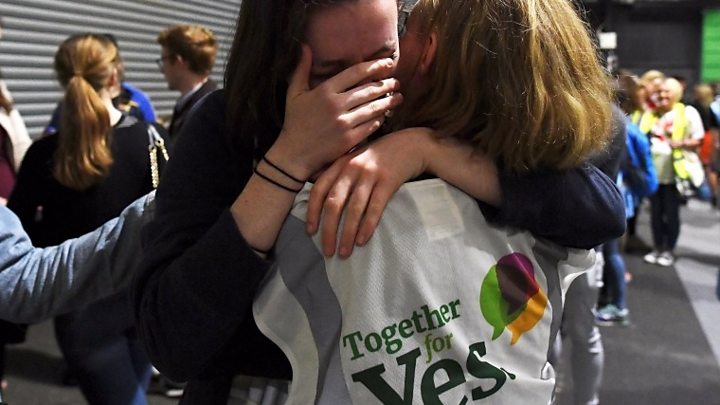 Those taking part in Friday's referendum were asked whether they wanted to repeal or retain a part of the constitution known as the Eighth Amendment, which says an unborn child has the same right to life as a pregnant woman.
A vote in favour of repeal paves the way for the Dáil (Irish Parliament) to legislate for change which would see the introduction of a much more liberal regime.
Mr Varadkar said he hoped to have a new abortion law enacted by the end of this year.
Counting began at 09:00 local time and the confirmed result is expected by Saturday evening.
However, the exit poll run by Irish broadcaster RTÉ suggested 69.4% in favour of the Yes side and 30.6% for No.
In Dublin, 79% of people voted for repeal, according to the RTÉ poll.
An exit poll released by The Irish Times points to 68% Yes to 32% for No.
Hours after the polls were published, one of the main anti-abortion campaigns conceded it had lost the vote.
"The unborn child no longer has a right to life recognised by the Irish state," said John McGuirk, from the Save The 8th campaign.
However, he vowed that No campaigners would continue to protest, "if and when abortion clinics are opened in Ireland".
Ireland abortion referendum: PM hails 'quiet revolution'