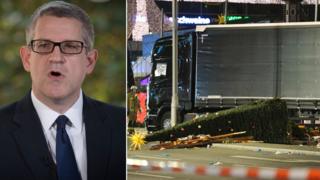 The head of MI5 has warned that the Islamic State group aspires to commit "devastating" and "more complex" attacks in Europe after losing territory in the Middle East.
Director general Andrew Parker was speaking at a meeting of European security chiefs in Berlin.
He revealed 12 terror attacks have been stopped in the UK since the Westminster attack in 2017.
He condemned Russia for the "targeted" poisoning of the Skripals in Salisbury.
Russian ex-spy Sergei Skripal and his daughter Yulia were exposed to a nerve agent belonging to the Novichok group in March.
Mr Parker accused the Kremlin of "flagrant breaches of international rules" over the poisoning attack.
The Russian government has denied any involvement, but has been the subject of condemnation and diplomatic sanctions from the West.
Mr Parker described the attempted assassination of the Skripals as a "deliberate and targeted malign activity" which risked Russia becoming a "more isolated pariah".
He condemned Moscow by calling for the need to "shine a light through the fog of lies… out of their propaganda machine".
"One of the Kremlin's central and entirely admirable aims is to build Russian greatness on the world stage," he said.
"But its repeated choices have been to pursue that aim through aggressive and pernicious actions by its military and intelligence services."
Mr Parker's speech comes after one person was killed and four others were injured by a knifeman in Paris on Saturday. The attack was claimed by IS.
In December last year, Mr Parker reported that nine terrorist attacks had been prevented by the security services and police in 2017.
Monday's updated total brings the number of disrupted attacks in the UK to 25 since 2013.
In his speech, the chief of the security service said he was "confident about our ability to tackle these threats, because of the strength and resilience of our democratic systems, the resilience of our societies and the values we share with our European partners".
Mr Parker added that European intelligence agencies must rely on "shared co-operation more than ever".
And he thanked European security services for their support in the investigation into the Manchester bombing last year.
"European intelligence cooperation today is simply unrecognisable to what it looked like five years ago."
IS still threatens Europe, warns MI5 chief