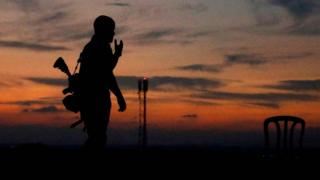 A ceasefire that ended two days of fighting between Israel and Palestinian militants in Gaza is largely holding.
Schools and businesses in southern Israel reopened on Wednesday after no rocket attacks were reported overnight.
However, Israel's military said it had captured an armed Palestinian who tried to breach the Israel-Gaza border fence.
Eight people were killed on Monday and Tuesday as militants fired 460 rockets towards Israel and Israeli forces bombed 160 targets in Gaza.
Hamas, the Islamist movement that dominates Gaza, and other Palestinian militant groups announced on Tuesday afternoon that they had accepted an Egyptian-mediated ceasefire and would abide by it if Israel did too.
Israel's security cabinet initially said only that it was ordering the military to continue its operations as required, but two ministers appeared to confirm that it had agreed to accept a ceasefire when they denied that they had supported it.
Defence Minister Avigdor Lieberman said he was one of those who opposed the decision and Israeli media reported that he might announce his resignation.
Dozens of residents of communities near the Gaza border have burned tyres and blocked roads in protest at what they called the "lack of action by the Israeli government" to deal with the threat of Palestinian rocket attacks.
Prime Minister Benjamin Netanyahu defended the ceasefire decision, saying that "in times of emergency, when making decisions crucial to security, the public can't always be privy to the considerations that must be hidden from the enemy".
The latest violence began after an Israeli special forces undercover operation in Gaza was exposed on Sunday, triggering clashes that left seven Palestinian militants and one Israeli soldier dead.
Israel-Gaza ceasefire largely holds after flare-up}