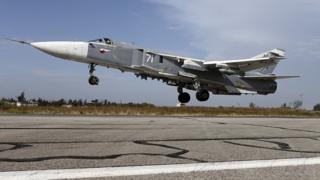 Israel has shot down a Syrian warplane flying over its airspace over southern Golan, according to its military.
The Israel Defense Forces tweeted that two Patriot missiles were fired at the Syrian Sukhoi fighter jet, which it said was one mile inside Israeli airspace.
Unconfirmed reports say that a pilot was killed.
Syrian news agency SANA said Israel had targeted one of its jets over its airspace, but did not say it was hit.
The agency quoted a military source as saying the plane was conducting raids against "armed terrorist groups" near the Yarmouk Valley.
Haaretz news website reports residents in north Israel saw interceptor missiles fired and heard explosions.
In a statement, the IDF said it was on "high alert" following "an increase in the internal fighting in Syria" and greater activity by Syria's air force.
It is reportedly the first time Israel has shot down a manned Syrian aircraft since 2014.
The shooting follows the day after Israel used its David's Sling missile defence system for the first time.
The system was activated when two Syrian surface-to-surface missiles seemed to approach Israeli airspace.
Israel shoots down Syrian fighter near Golan Heights}