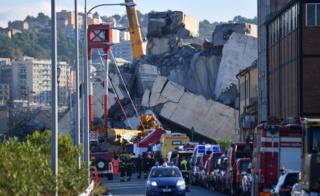 Grief in Italy for the 37 victims of a collapsed motorway bridge in Genoa has been mixed with anger that such a vital structure could have simply given way.
Rescuers are still searching for survivors underneath the Morandi bridge, where almost 40 vehicles fell 45m (148ft) in Tuesday's collapse.
The cause is not yet known but there have been calls for the heads of the company operating the bridge to resign.
Survivors have also been recalling the horror of the bridge's collapse.
What is the latest at the scene?
Hundreds of firefighters are there, using lifting gear, climbing equipment and sniffer dogs to try to locate any more survivors.
The local prefecture raised the death toll on Wednesday morning to 37. At least three children lost their lives.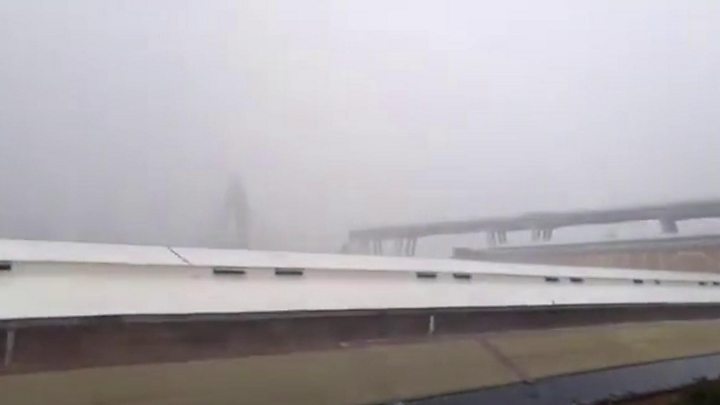 The city's authorities have declared two days of mourning.
There are 16 people being treated in hospital, 12 of them in a serious condition.
Some 440 people have been evacuated from the area amid fears other parts of the bridge might fall.
The Morandi Bridge, built in the 1960s, stands on the A10 toll motorway, an important conduit for goods traffic from local ports, which also serves the Italian Riviera and southeast coast of France.
Who are the victims?
Families in their cars, people going to work, people going on holiday. It could take many hours to find out exactly how many people died and identify them.
Counsellors are on hand at emergency centres to help relatives.
Some of the names of the victims have been appearing in Italian media.
A family of three were killed after their car fell from the bridge – Roberto Robbiano, 44, Ersilia Piccinino, 41, and their young son Samuel
Amateur footballer Andrea Cerulli died as he was driving to work
Two workers for municipal environmental company Amiu, who were working in a van under the viaduct and were crushed
Luigi Matti Altadonna, 35, Juan Carlos Pastenes, 64, and Elisa Bozzo, 34, were named by La Stamp as some of the victims
What have survivors been saying?
One of the most telling testimonies came from Davide Capello, 33, a former goalkeeper for Serie A side Cagliari.
His car fell 30m in the collapse but came to rest in a pocket between the columns and he survived.
"I was able to get out… I don't know how my car wasn't crushed. It seemed like a scene from a film, it was the apocalypse," he said.
Valentina Galbusera, 43, a doctor, told La Stampa: "The bridge fell in front of me, not even 20m away, I avoided the collapse by only a couple of seconds. I felt the bridge was shaking and I tried to reverse. Then I got out of the car and started running."
Moroccan lorry driver, Afifi Idriss, 39, told Agence France-Presse: "I saw the green lorry in front of me stop and then reverse so I stopped too, locked the truck and ran."
What has the official reaction been?
Wednesday brought an angry response to the collapse from Transport Minister Danilo Toninelli.
He called on the top management of Autostrade per L'Italia, which oversees maintenance, to resign, saying it had failed to meet its contractual obligations. He said he would seek to fine the company heavily and revoke its operational licence.
The company has not yet responded, although a spokesman earlier said there had been constant inspections.
The Genoa Public Prosecutor's Office has already opened an investigation into possible negligent homicide. The head prosecutor blamed "human error".
Interactive

Genoa bridge collapse before and after

Italian police, August 2018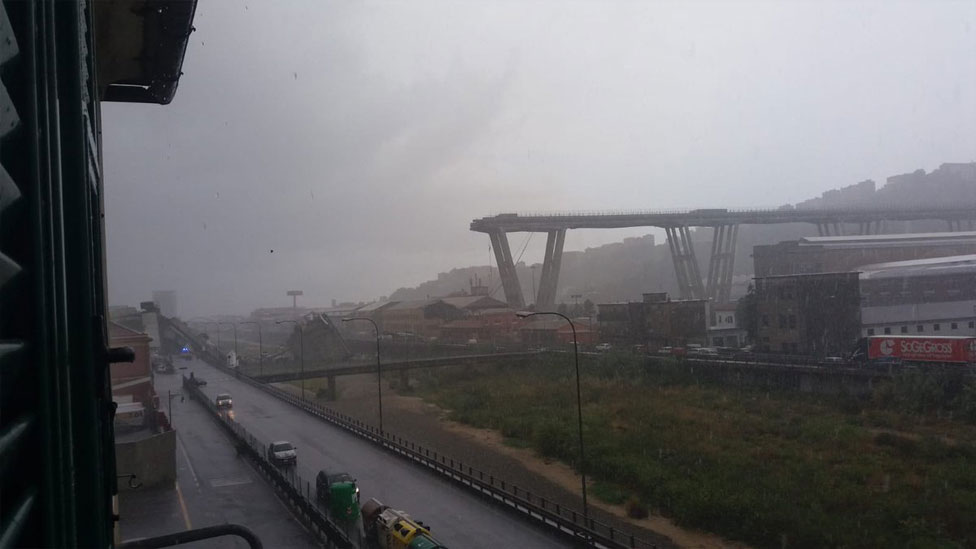 Google, May 2015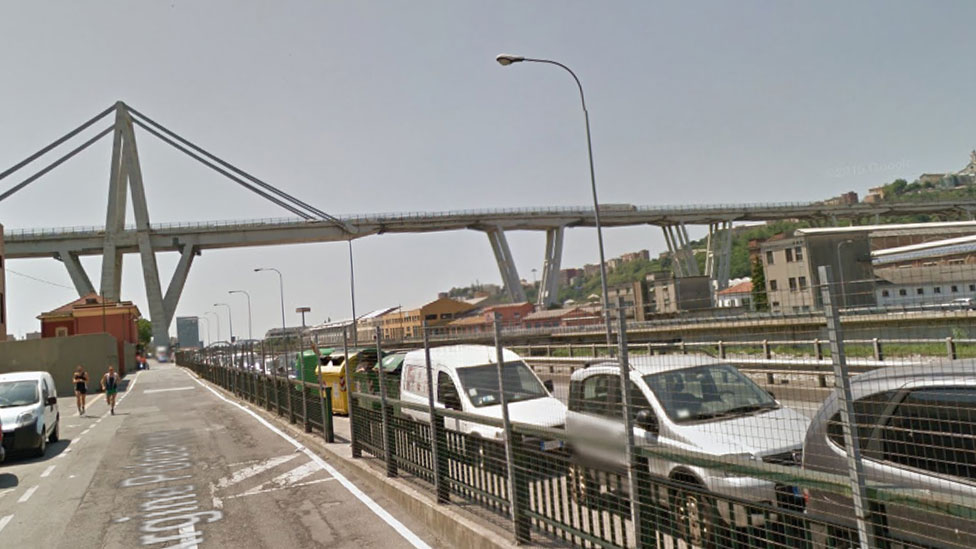 Interior Minister Matteo Salvini said that "no-one who is found guilty of this disaster will go unpunished".
PM Giuseppe Conte said: "We must not allow another tragedy like this to happen again."
Were safety warnings ignored?
The state of the bridge and the responses to the collapse throw light on what has been a long-standing debate about Italian infrastructure.
This was the fifth bridge collapse in Italy in five years, according to Corriere Della Serra.
There have been previous reports and comments questioning how the Morandi bridge was built and how long it could last.
In December 2012, the Genoa city council discussed the state of the bridge at a public hearing into how to expand the local transport infrastructure. A local industry confederation official spoke of the collapse of the Morandi bridge "in 10 years".
In 2016, structural engineer Antonio Brencich spoke of "errors in this bridge".
More recently, an internet page linked to Italy's Five Star Movement, which the party says was not official but which discussed infrastructure in the area, appeared to deny the bridge was in danger and spoke of "the fairy tale of the upcoming collapse of the Morandi Bridge", Il Messagero reports.
Italian media have also been pointing to Mr Toninelli's own comments two weeks ago appearing to oppose a major infrastructure project in the area, work his deputy Edoardo Rixi said was fundamental.
The issue of transport in the area is now critical, given that the bridge was a major arterial route for an important port city.
PM Conte has said all infrastructure across the country will be double-checked.
What went wrong at Morandi?
Engineers and politicians have insisted no-one should jump to conclusions.
There was torrential rainfall at the time and one official said lightning strikes would have to be investigated.
A huge tower and sections of the bridge – measuring about 200m – collapsed on to railway lines, a river and a warehouse.
The motorway operator said work to shore up the bridge's foundation was being carried out at the time. Poorly carried out maintenance can sometimes be a factor in a bridge collapse.
Autostrade per l'Italia admitted in 2011 the bridge had been suffering from degradation due to heavy traffic.
Did you witness the collapse of the bridge? Are you in the area? If safe to do so, please email haveyoursay@bbc.co.uk.
Please include a contact number if you are willing to speak to a BBC journalist. You can also contact us in the following ways:
Italy bridge: Grief and anger over collapse in Genoa