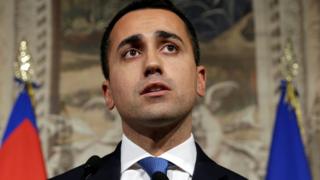 The leader of Italy's anti-establishment Five Star Movement says he has agreed on a coalition programme with the right-wing League.
Luigi di Maio said on Sunday that negotiations were continuing over who would lead the prospective coalition but it had been a "productive day".
He added that the prime minister would not be a technocratic figurehead.
President Sergio Mattarella had set a Sunday deadline to break the stalemate after inconclusive elections in March.
Italy election: Five Star and League 'agree programme'